Milam Glacier Trek Part 3 - Munsyari to Bagudiyar (Bagad + udiyar)
Day - 3
the next day, i got up slightly late as usual. i went out to find that the sun was about to rise from behind the panch chulis. it was a spectacular sight. there was a layer fo fog below the hills, and the sun was coming out from behind them .. fundoo. after clicking some snaps, it was time to get ready, have some breakfast and leave. ganga arrived on time to meet me, and so did mr. soban ram. i finished gulping down some paranthas and then we were off on our way. we had to take a jeep from munsiyari to selakot. however the road was broken by boulders at a place. so we got of fand took another jeep on the pothjer side of the road. of course, u have to cross that broken part, running at full speed otherwise boulders may suddenly come down n hit u. we go some 8 or 9 kms down from munsiyari to a small place called selakot (or something like that). the road turns in the opposite direction and goes down towards the goriganga river. we also go down towards the river, but our direction is opposite to the flow of the river.
ok, now the fun begins. the trek starts. there is a board with the map of the route. u can get some candies from the shop. there r some nice fat bhotia doggies around the shop. the start of the trek is easy, as it goes down, down and more down. it keeps going down for 2 or 3 kilometres. there is a mixture of forests and fields along the way. i met a team of trekkers resting on the way. they had coem trekking all the way from joshimath. almost a trans-kumaon trek. wow!! ganga ram and soban ram wlakhed slightly ahead, as i was stopping for photographs at every possible spot. u almost come level withthe river and then start walkign along the river bank. be careful,as the path can be very narrow at places. lots of greenery on this part of the trek with some lovely wild flowers growing all over the place. there r many places along the way where u can stop and have a cup of tea (chiha, as it is called in pahari .. just be a bit heavy with the accent). the road seems narrow, but is a lot of fun to walk on. at many places, the road is carved out from the rocks the hillside. so, there r rocks below u, rocks on ur left hand side, rocks above u, and a sharp fall on your right. it's not scary, it's fun - u should just enjoy the walk. as for the small animals, u will find lots n lots of rats without tails. small, round, fat rats. but since i had a very amateurish camera, i could not take their pics from a distance. also, there will be lots n lots of blue/purple coloured lizards. the whole place is teeming with them. as for flowers - dude this is the place to be in, if u like flowers. hope all the gals r reading this carefully :-). we stopped for tea at a very very small dhabha. i noticed two other ppl having tea, with their 3 porters. they were mr. martolia and his doctor cousin. we just had a small intro and then i went on my way. however, later on, we were to trek together for most of the journey and give wonderful company to each other.
the first major stop is lilam. many trekkers who r here for a leisure trip stop here on the 1st day itself. we reached there by 11 am. so we just decided to have a cup of tea and then be on our way. i must mention that the path before lilam climbs up quite significantly. before lilam, the path is at the bottom of the valley, along the gori ganga river. now lilam is smack in between the top ridge of the hill and the river. so u have to climb around 40% of the hill. phew, it is pretty tiring. soban ram knows many ppl in lilam. he had kept his sleping back, raincoat, etc in lilam only. then we had tea at the local dhabha. and if anyone is wondering why they don't have chimmeneys over there, then it is coz they will break due ot the heavy snowfall in winters. we have chimmneys in places of moderate snowfall like nainital. but places like kalamuni received more than 9 ft of snow in 2004-05, so no use making chimmneys. i met a guy from pwd who was posted in lilam. he started telling me about the difficulties of constructing the path in these places. we chatted a bit more and then he told me that he had also studied in nainital. cool dude, so did i. his school was in mallital, mine was in tallital. we also talked about the inter school football matches held in the flats during august and other memories about nainital. till then, mr. martolia and his brother also reached lilam. we had a more thorough introduction over there. they belonged to the village of martoli. mr. martolia had stayed in this place when he was akid, till the mid 1960s. johar valley was more populated in those days. now he works in national fertilisers, noida. he is in charge of the marketing and HR department over there - 2 subjects which i could never understand. his cuz is a doctor and also works on the kailash mansarovar yatra that apsses through this region every year. we had some kakdi with spicy red salt put inside it. pretty tasty and refreshing. soon, we were on our way. me, ganga and soban, followed by the martolias and their porters. there is an itbp checkpost at lilam, where u have to register yourself. so i told those chaps that dude, i belong to almora and am currently studying in kozhikode. most of they did not know about kozhikode, but one of the guys suddenly jumped at the mention ok k. he said he ahd also studied in kozhikode university and belonged to thrissur!!! "vanakkam chetta" was what i said immediately after that. well, that got a smile to his face and then the itbp ppl allowed me to pass.
now we were pretty much above the river and the slope was really steep. the guys at lilam had told us that the road had been washed of fat a place and u will have to cross by ropes. ok, i was ready for the adventure. :-). pretty soon, we arrived at that place. there were many pwd ppl taking a rest over there. they washed their helmets with the water from a nearby stream and then had their lunch in the helmets itself. rice + daal. the road took a sharp turn and just across the corner was the tough part. the waterfall had washed up the small path. so now we had to walk till where the road went. then climb down about 9 to 10 feet where the width of the waterfall/stream is less. the pwd ppl had put a rope and strategically placed some rocks so that u can hold the rope n step on the rocks n cross the stream. whoooopie!!! it was great. see ,its not very tough or dangerous, just follow ur guide, literally. that is all. then the fun started. the martolias came up behind us as all 3 of us had crossed. mr. martolia egged his cuz to cross before coz he was a bit fat and not at all used to this trekking. poor chap, he was definitely looking tired and out of place. and then, as he was crossing, mr. martolia took out his video camera and started shooting :-):-). anywyas, we all were pretty relieved when he crossed on to the other side. finally, he was across and we were all on our way again. pretty soon, we reached a place called rupsiyana bagad. it means (roop + syana + bagad) = (features + beautiful + riverside). literally, it means a beautiful riverside place. there is a small dhabha/hotel over here. meals are for 25-30 bucs, depending on how much u eat. normally, u can get paranthas, rice, ommellette and daal (lentils). there r some wooden beds over there. i just took off my shoes n socks and lied down. aaahh, the relief. and u enjoy ur food even more after a hard trek. it tastes yummy++ (apologies to bjarne strostroup). i gobbled it up, washed my hands n mouth, peed behind the bushes and then we all were on our way again.
after rupsiyana bagad, the valley narrows down. gori ganga is flowing real fast n furious. wow, the sound of the water is amazing. it almost feels as if the foam will jump and and reach ur face. the path now gets pretty forested. again, there is some climbing to do, punctuated by small breaks under some tree, on a rock withsome bananas for snacks. pretty soon u come to a big dhaba called rail-gadi (coz its pretty long, so it resembles a train). this place can be seen from some distance away through a clearing in the forests. it is below one of the biggest rock faces u will ever see. the rock face is absolutely vertical, and to some extent, almost overhangs over the whole dhabha. so the grass on top of the rock face keeps dripping with water for a long time after it rains. so it keeps dripping tap-tap-tap after in front of the dhabha door. there is also a small clearing full of long lush green grass in front of the dhabha. beautiful place to sit. then there is the gori river just flowing past u (blasting past u is a more apt word), and the river bank is full of white pebbes and rocks. u can have channa over here for Rs. 5/- per katori, a sa quick snack. many ppl stay here for the night. it was around 3 pm or so, and we decided to go ahead. there were some more minor stops on the way. the doctor was getting really tired. the flowers were really very very beautiful now. the doc and mr. martolia decided to stop about one km before bagudiyaar. the doc was too tired and could not walk further. so they decided to stay there and leave early in the morning and catch up with us at bagudiyaar. after some more trekking, we reached bagudiyaar. the place is a plain ground surrounded by near vertical mountains. there was a landslide some years ago, killing many ppl. so there is now a memorial for them over here. first, u have to register urself at an itbp border post. the itbp guard was telling me about some scientist who had coem here 3 months ago and did not return. maybe he had got lost or returned via some other route. there is a small pwd house (single room with attached loo) and a dhabha. we went ot the dhabha as it a cheaper option. the dhabha wallah has the two cutest daughters u will ever see. one is pretty inquisitive, while the other is a bit shy. he has 2 or 3 rooms inside (reminder: these rooms r also made of bamboo sticks). and it had started to rain heavily. so he gave us another adjoining cemented room with beds n blankets. we kept our stuff over there. it was time for dinner pretty soon. it was mainly rice, daal and sabjee. there were some other shephards who were also staying in the dhabha for the night. and there were two or three local lads who were heading up to the villages from munsiyari for the nanda devi festival. they were also having some home made beer with them, which they consume becoz of the cold weather. they were in high spirits n became very friendly n talkative pretty soon. we had our dinner n went off to sleep. i hanged my vest n t-shirt i was wearing throughout the day outside to dry, since they had become slighly moise in the drizzling and due to the sweat. it is important to stay as dry as possible while trekking in cold climes. it rained, thundered and showered in the night and i coughed n coughed. lesson: always carry a cough syrup on a trek.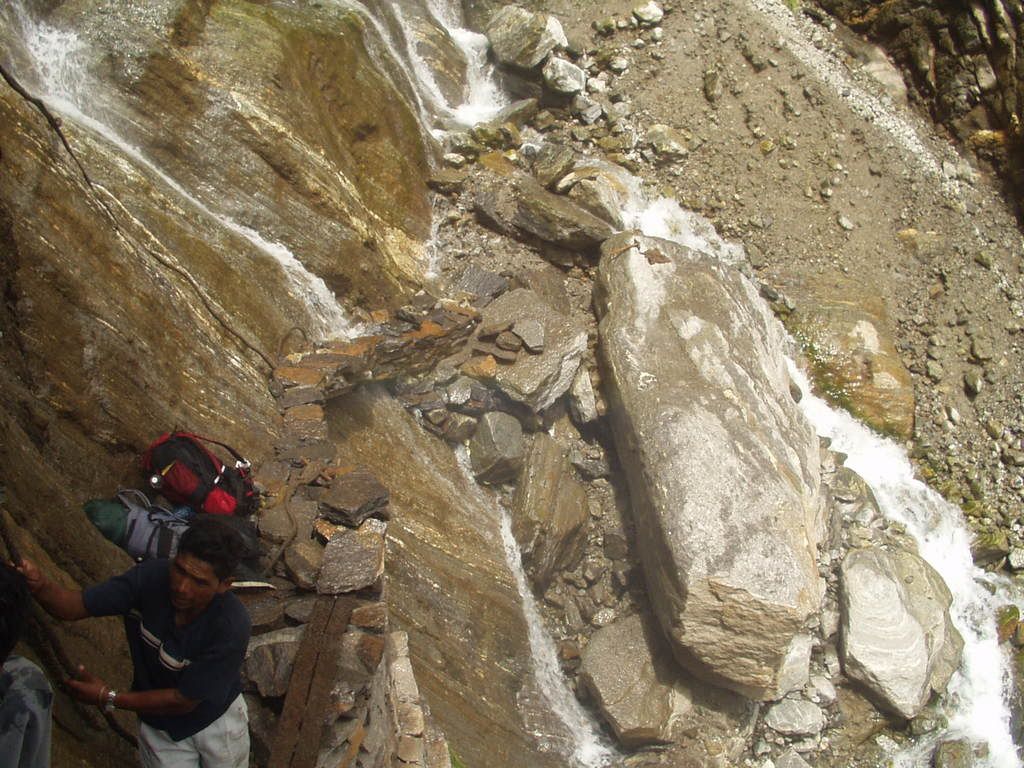 crossing a waterfall with the help of ropes
stone path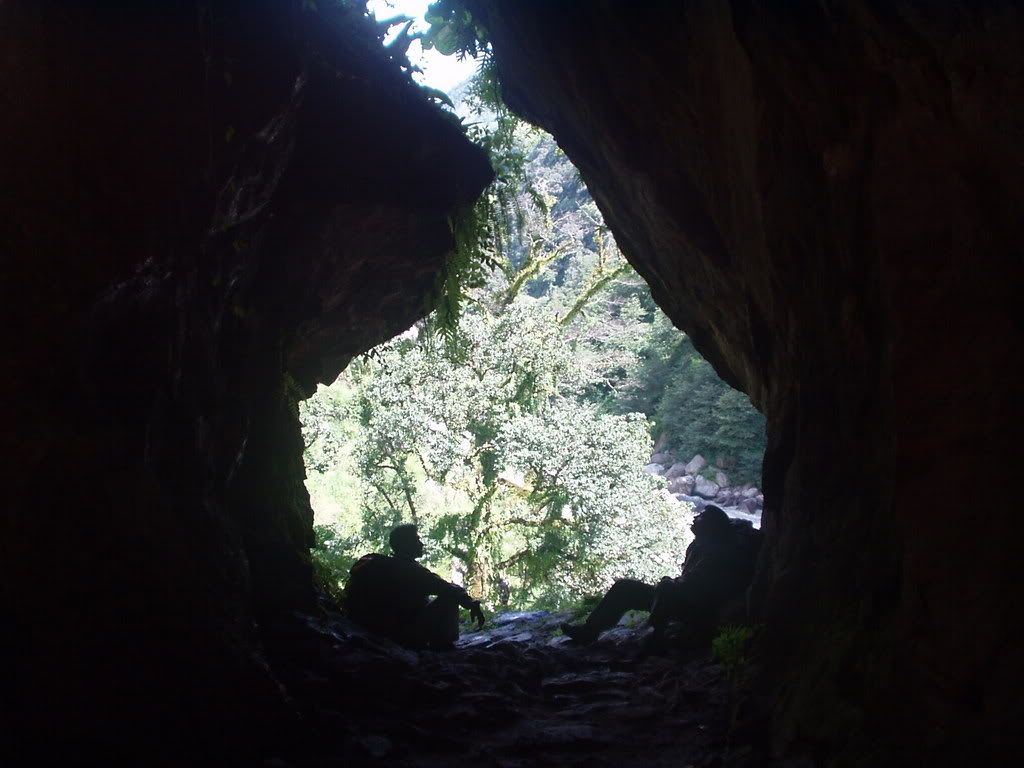 a small cave on the way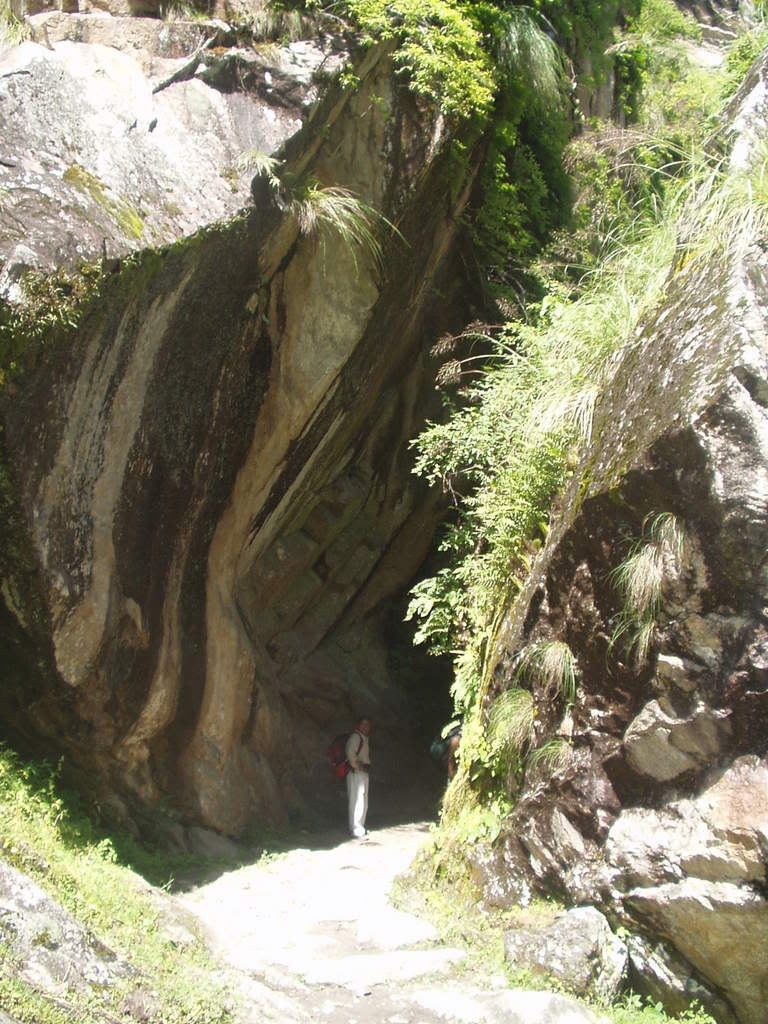 entrance to the small cave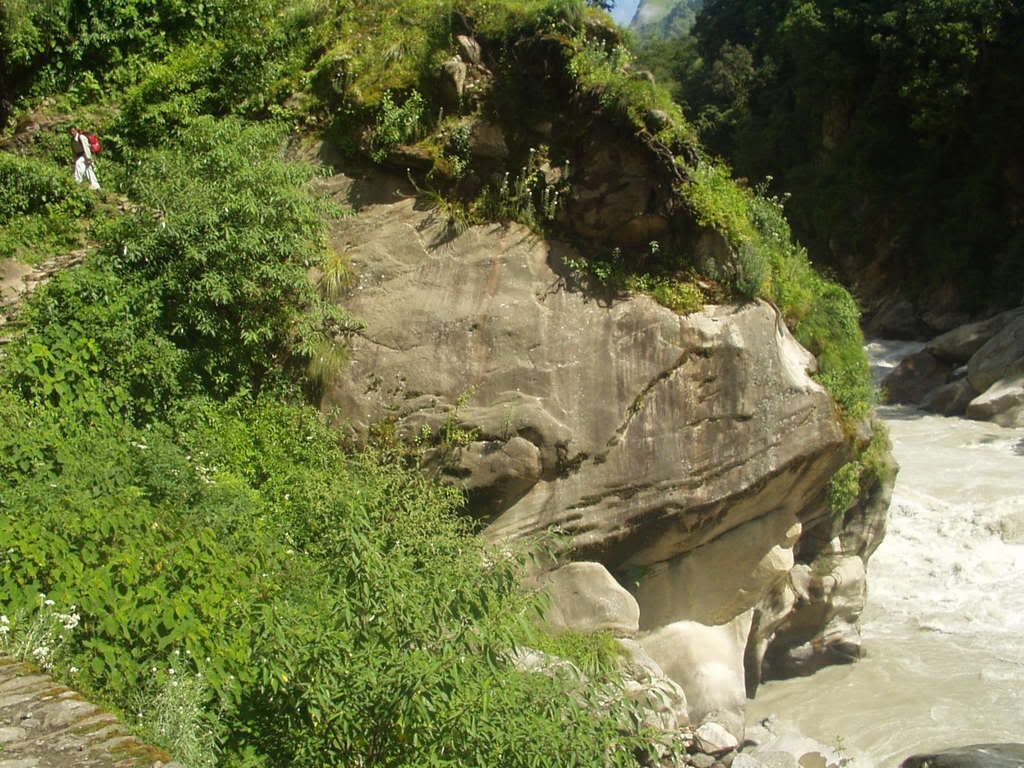 going along the gori ganga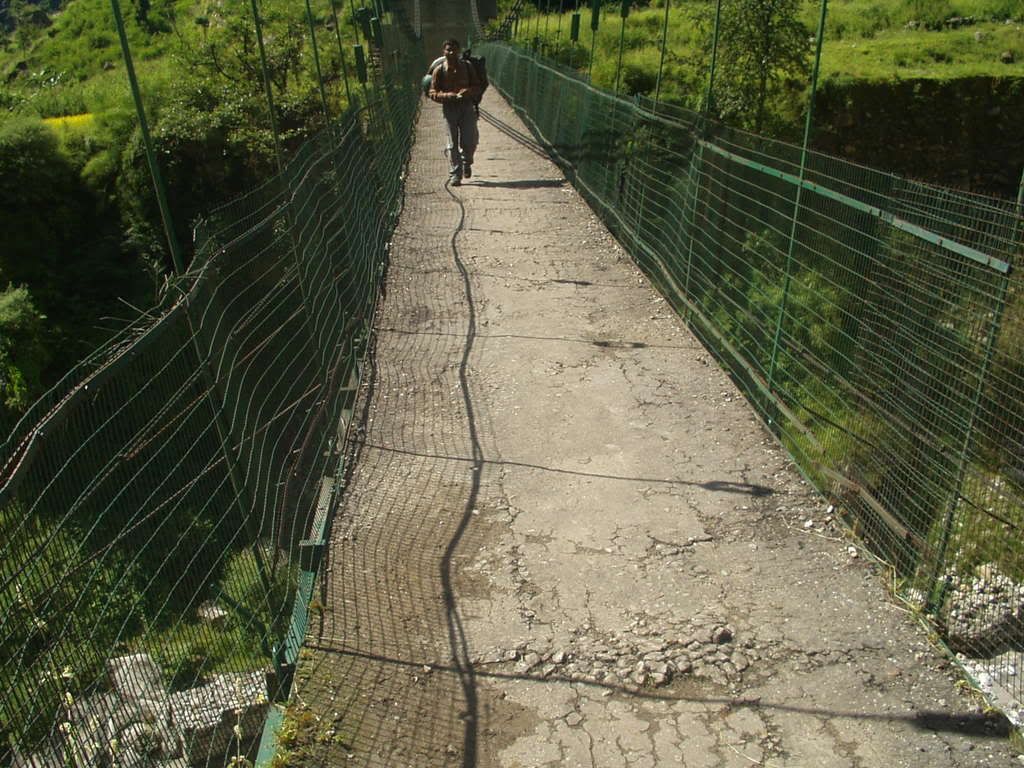 soban ram crossing the bridge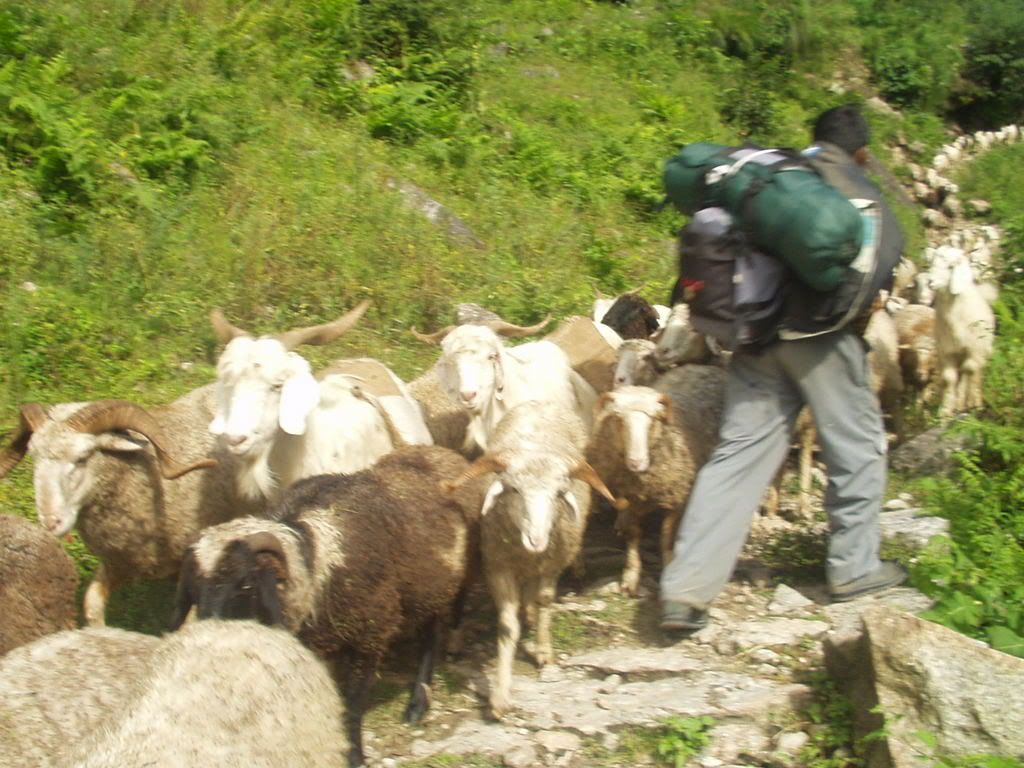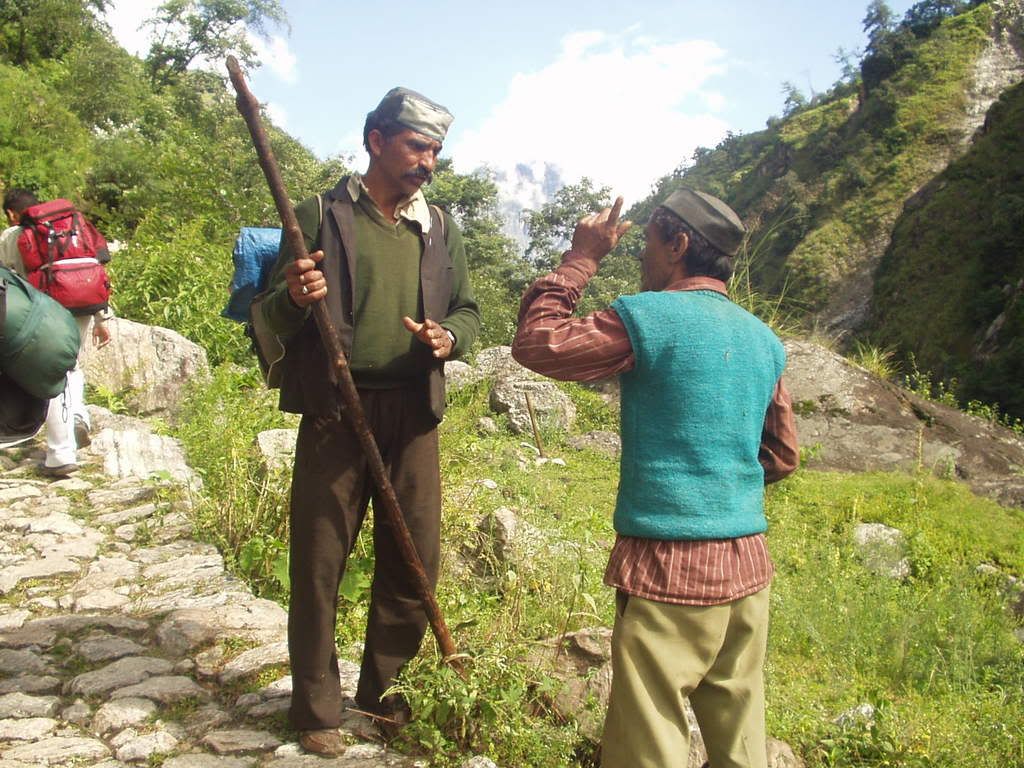 two shephards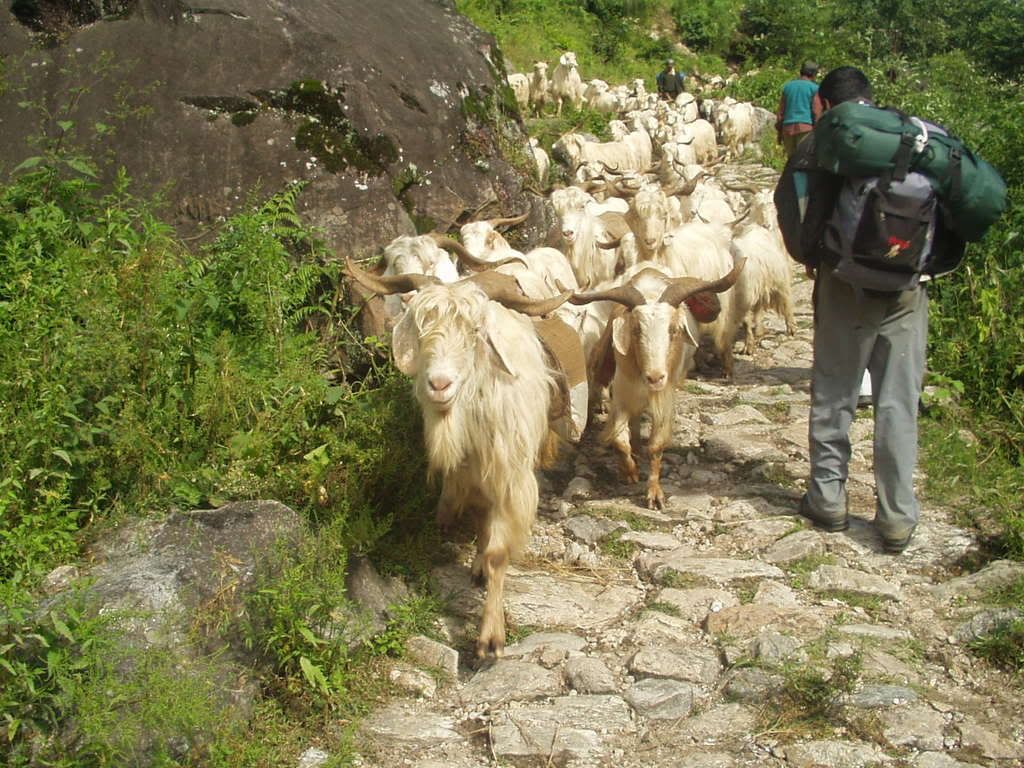 traffic jam, guess i will have to let them pass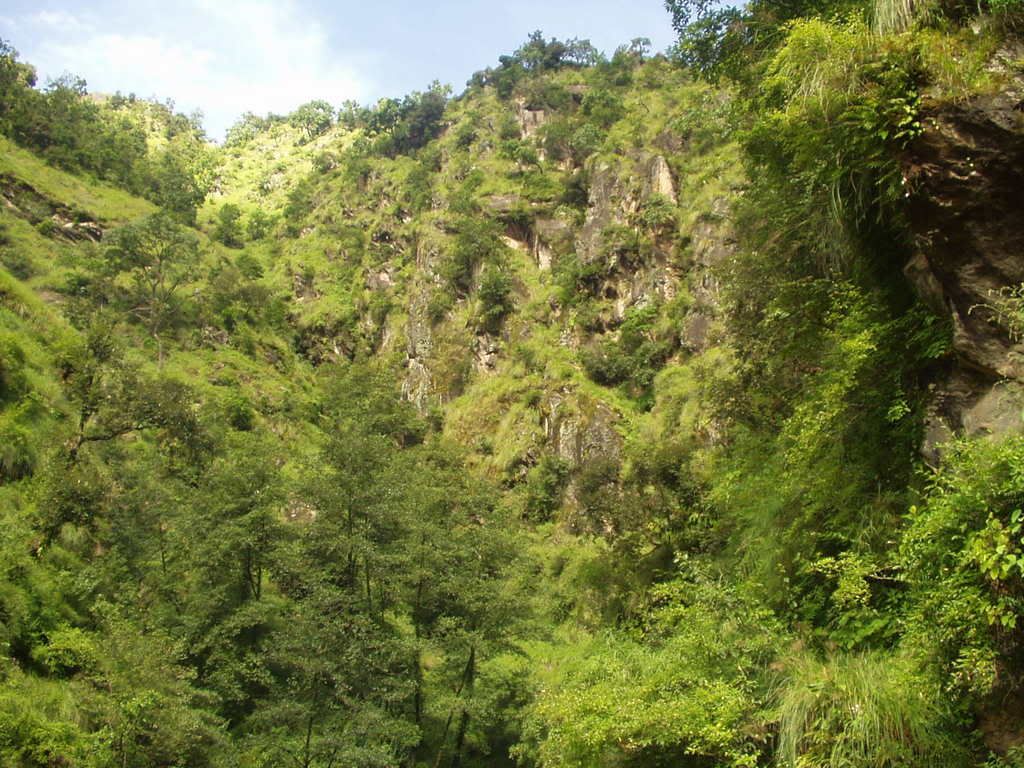 spectacular views along the way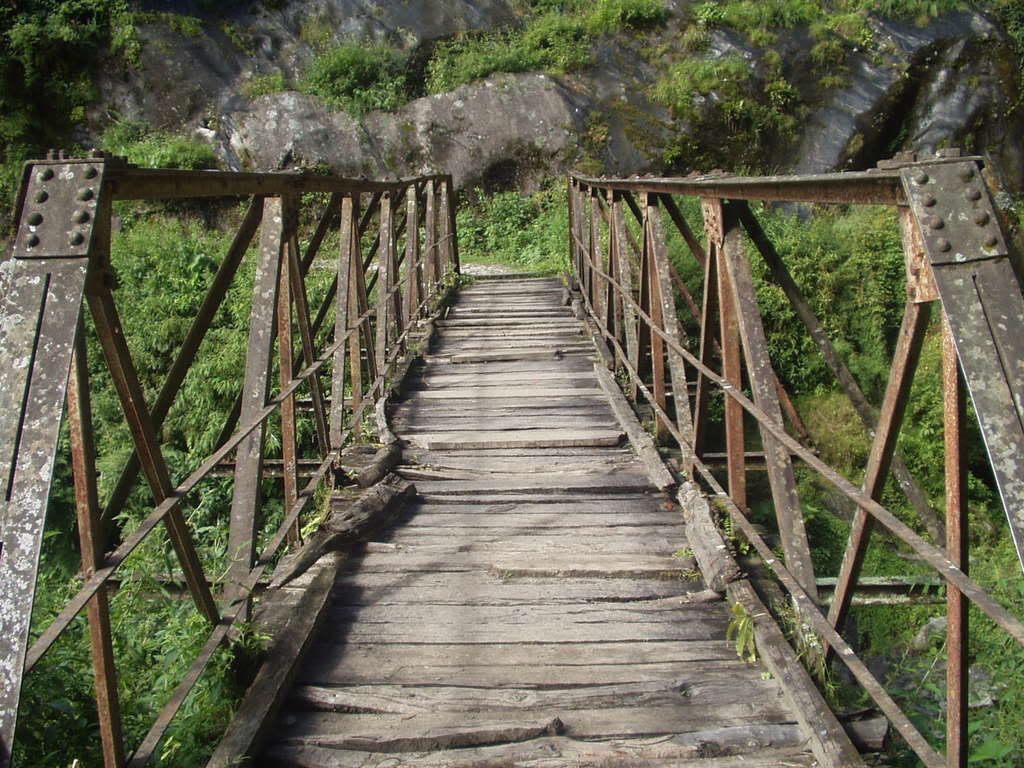 a wooden bridge
some lovely flowers along the way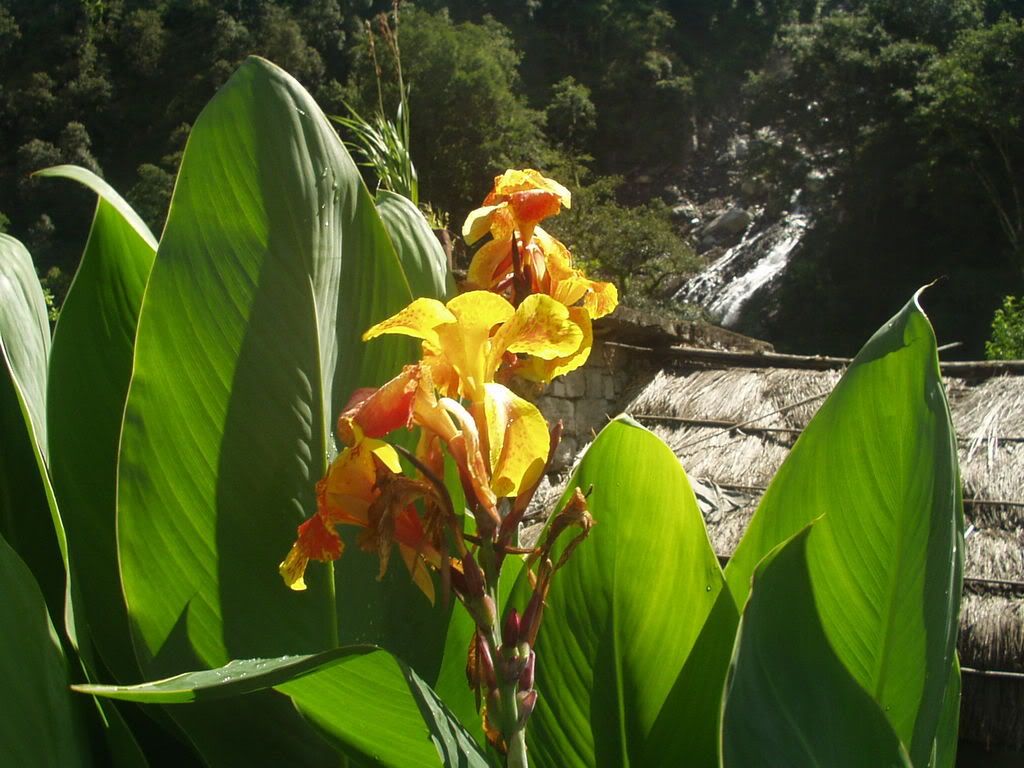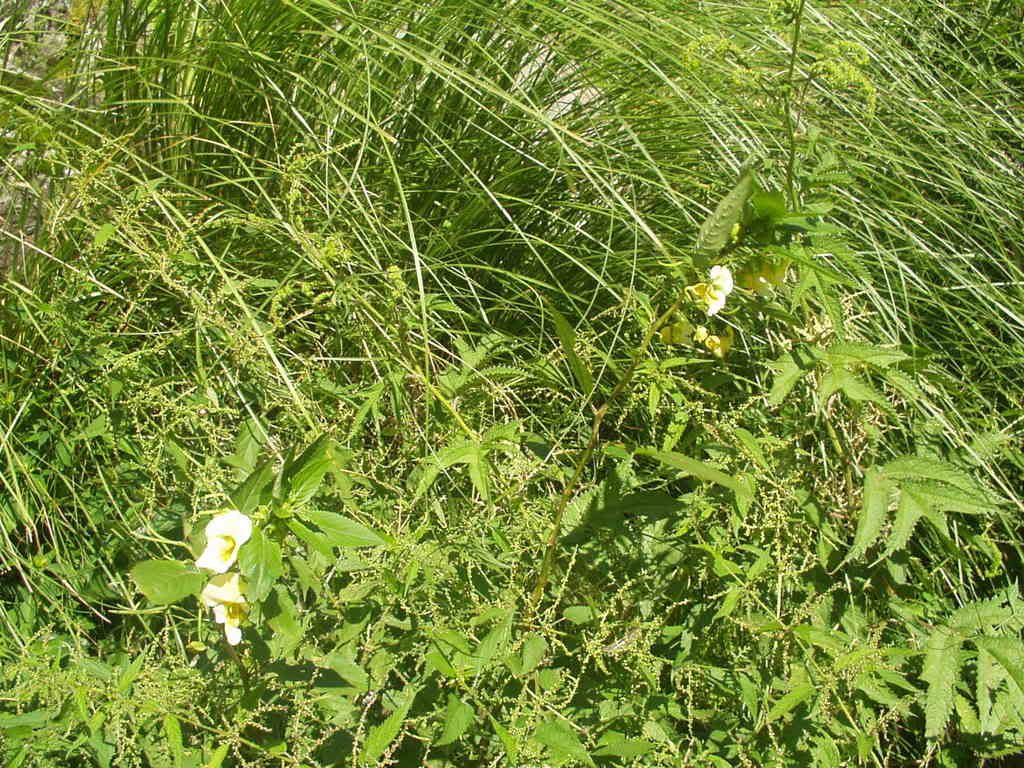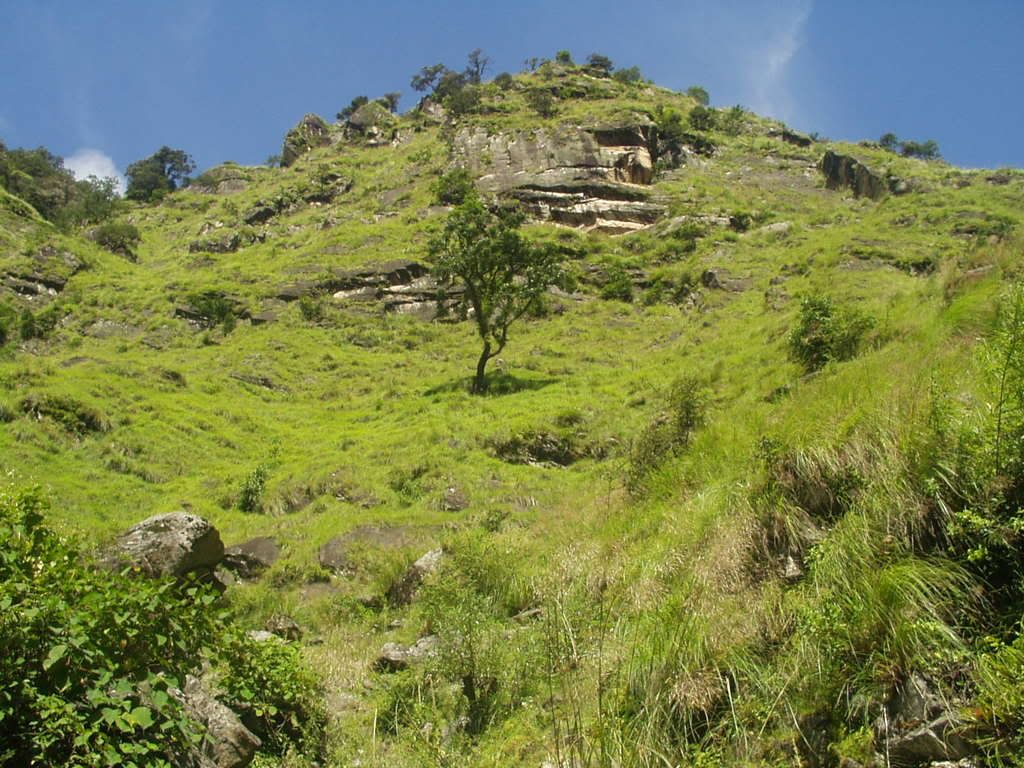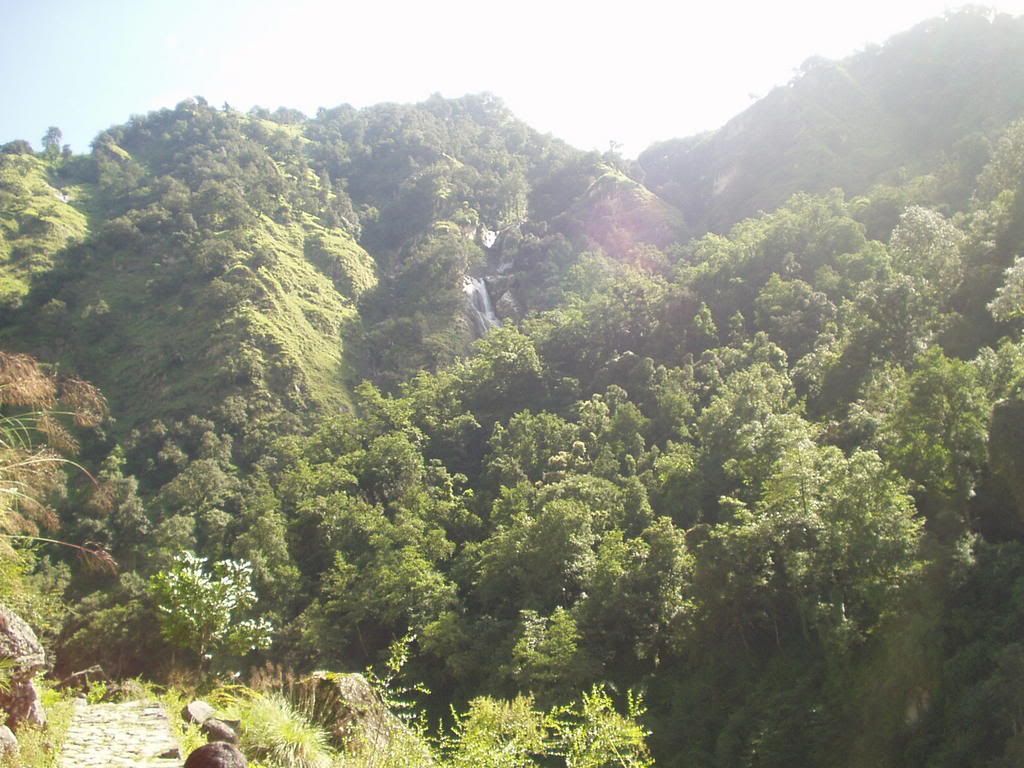 the stone path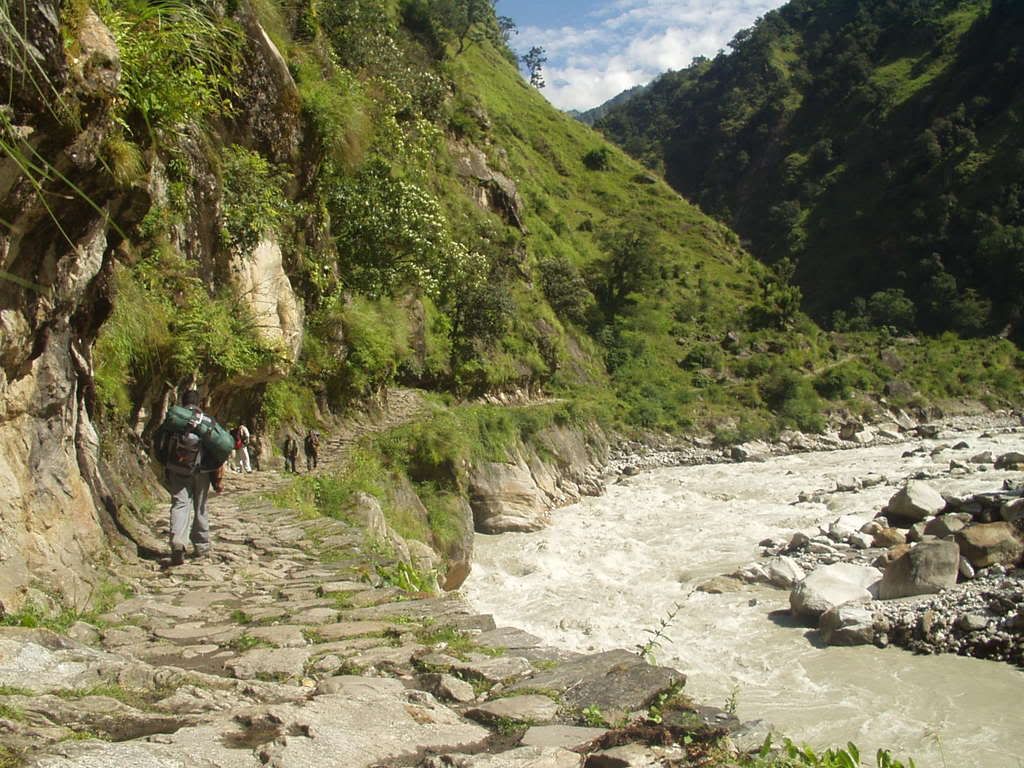 this is the famous path along which caravans went to and from tibet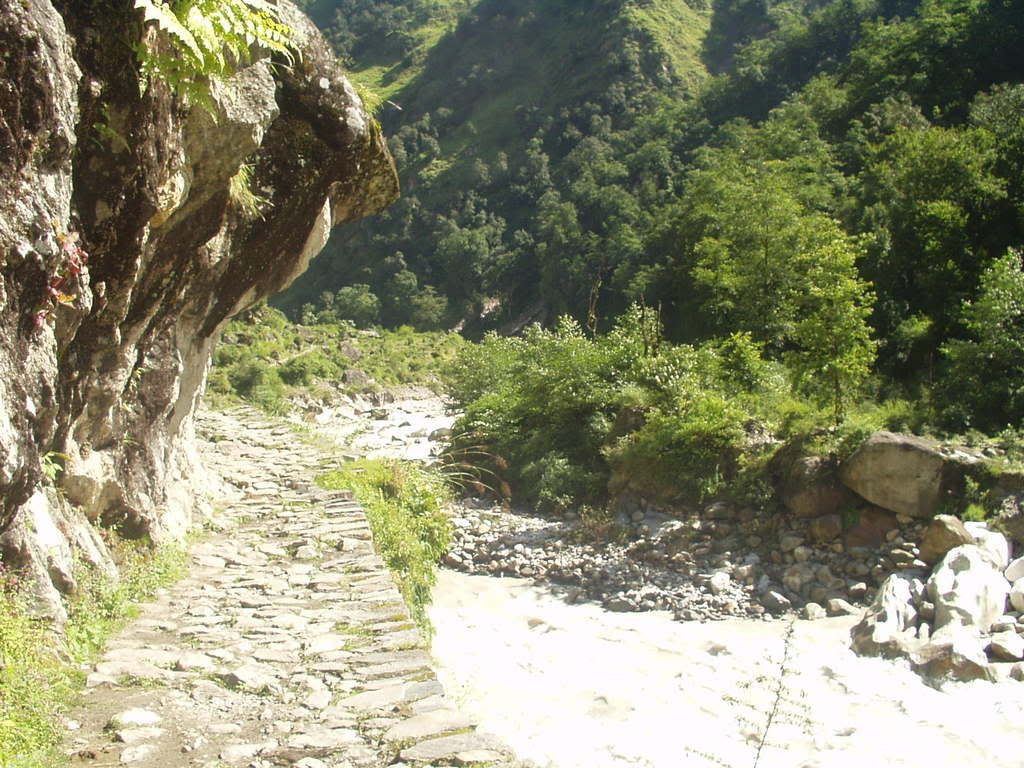 here is the stony path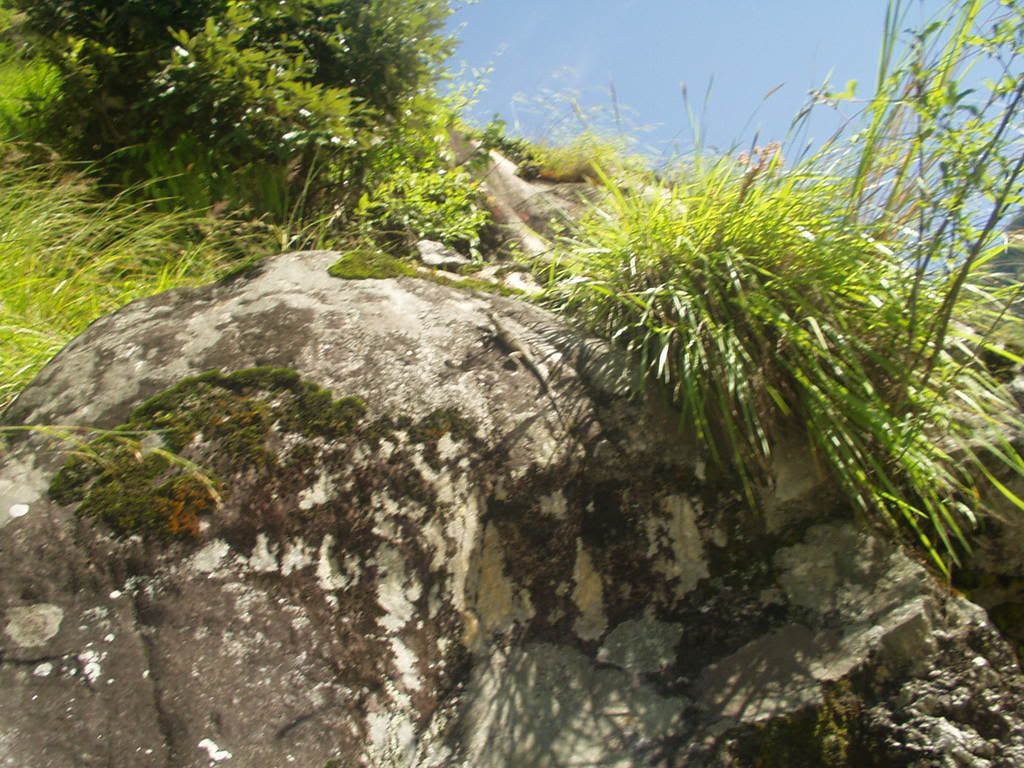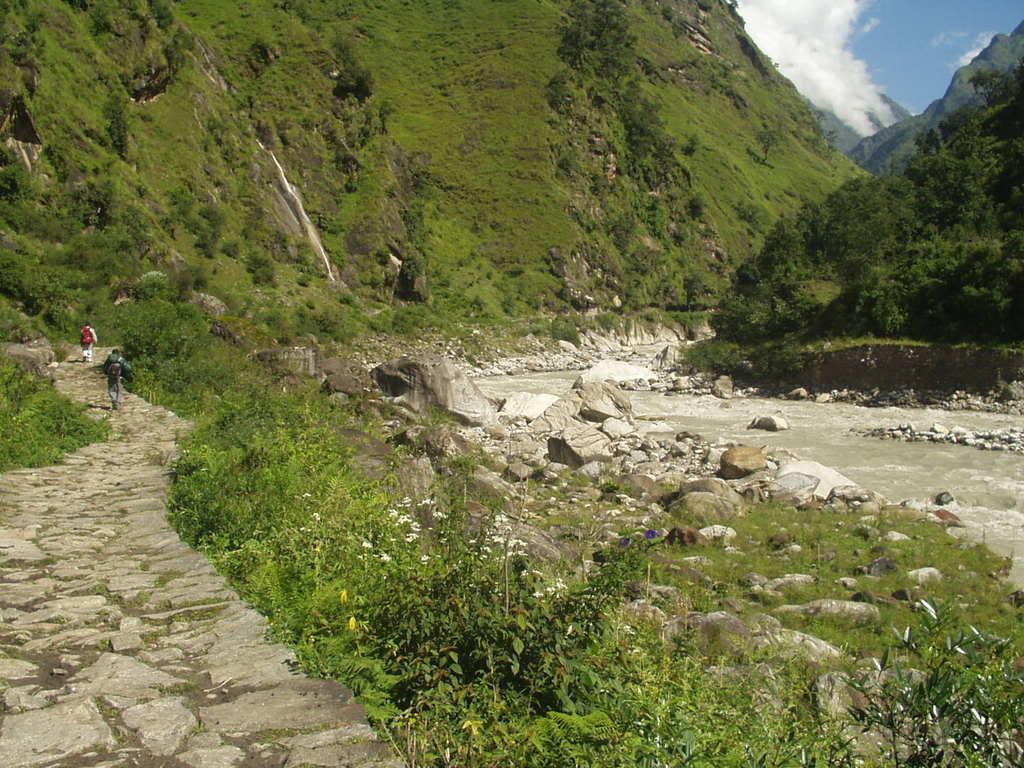 villages along gori ganga river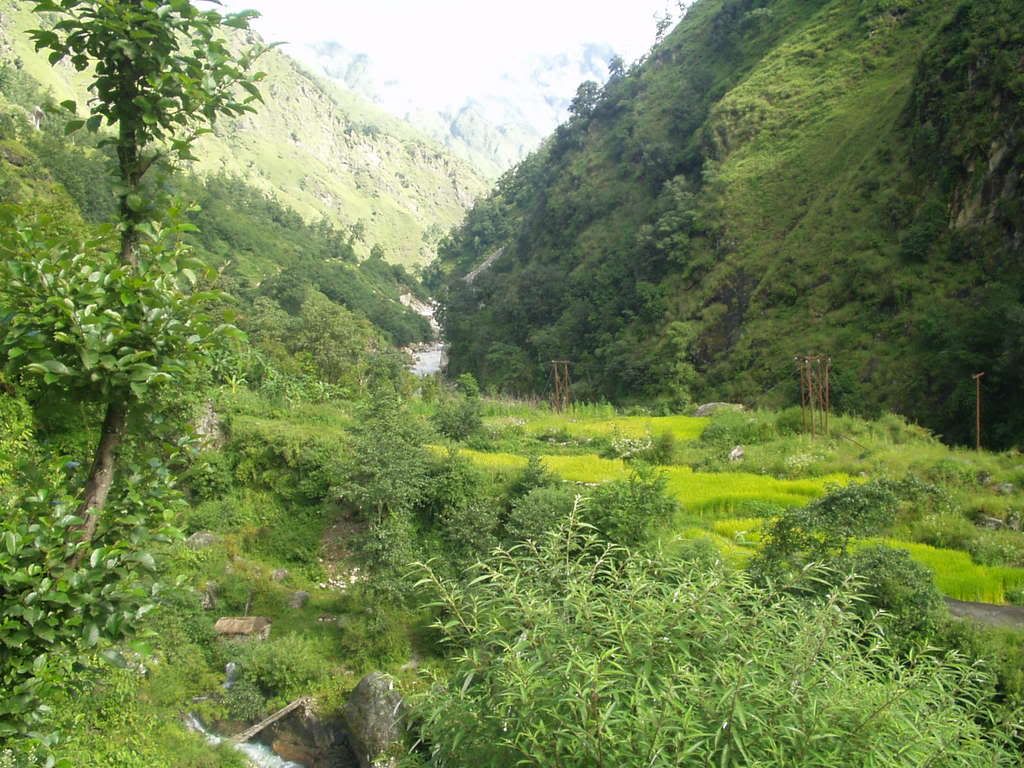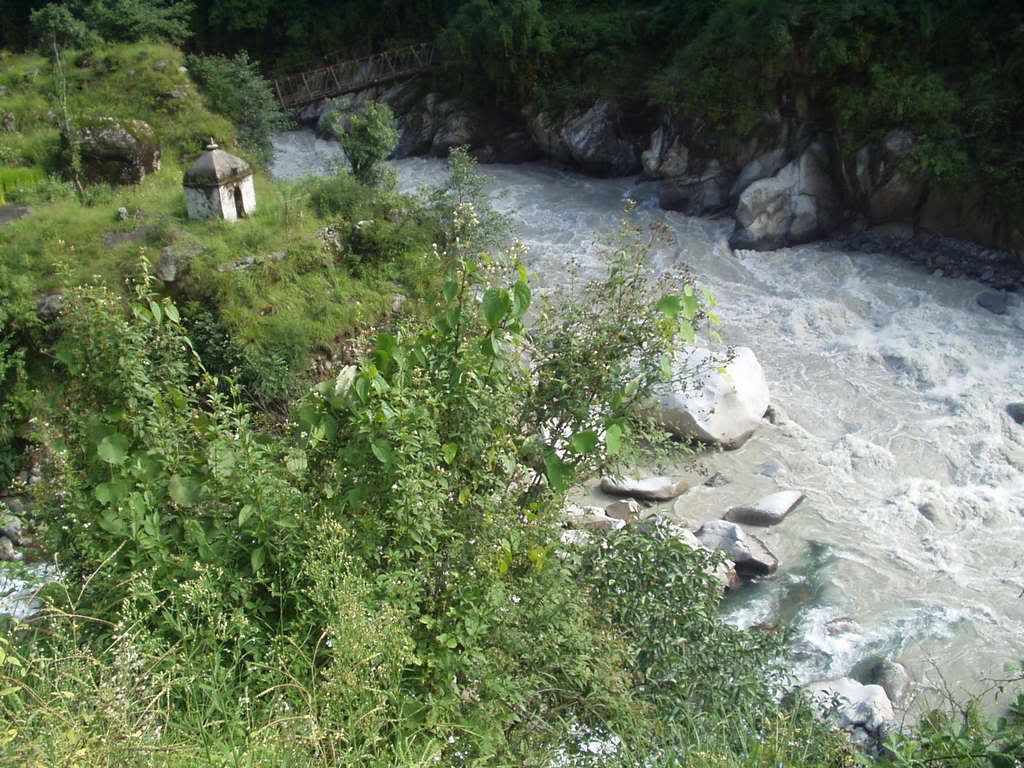 a small temple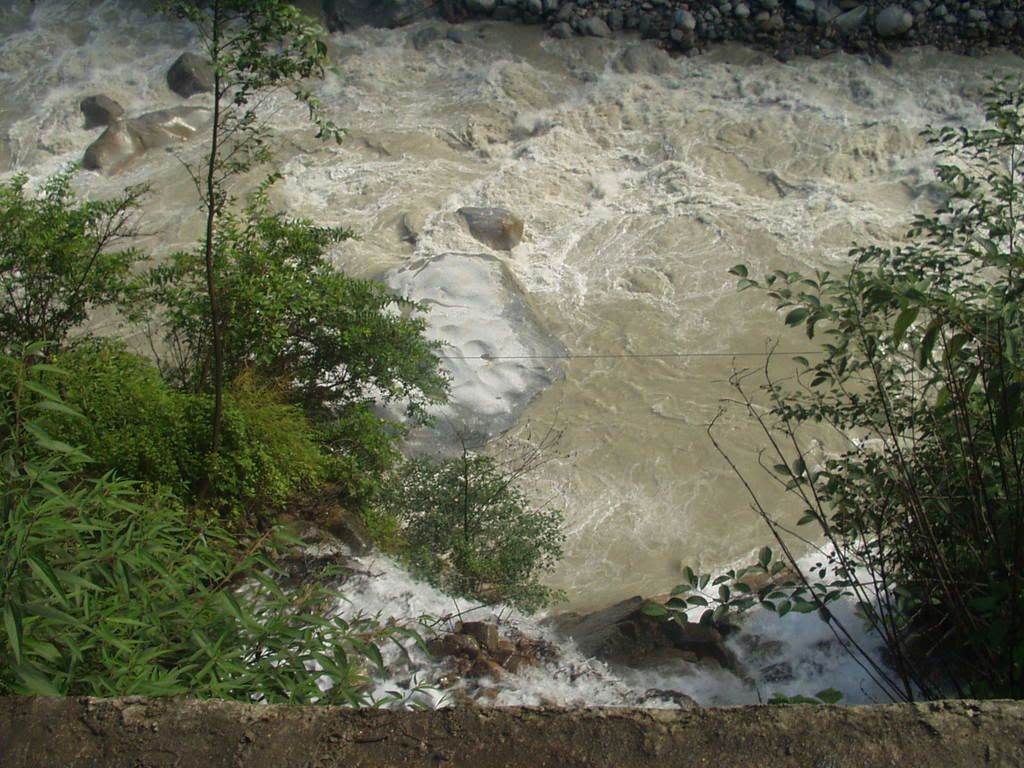 the ferocious gori ganga river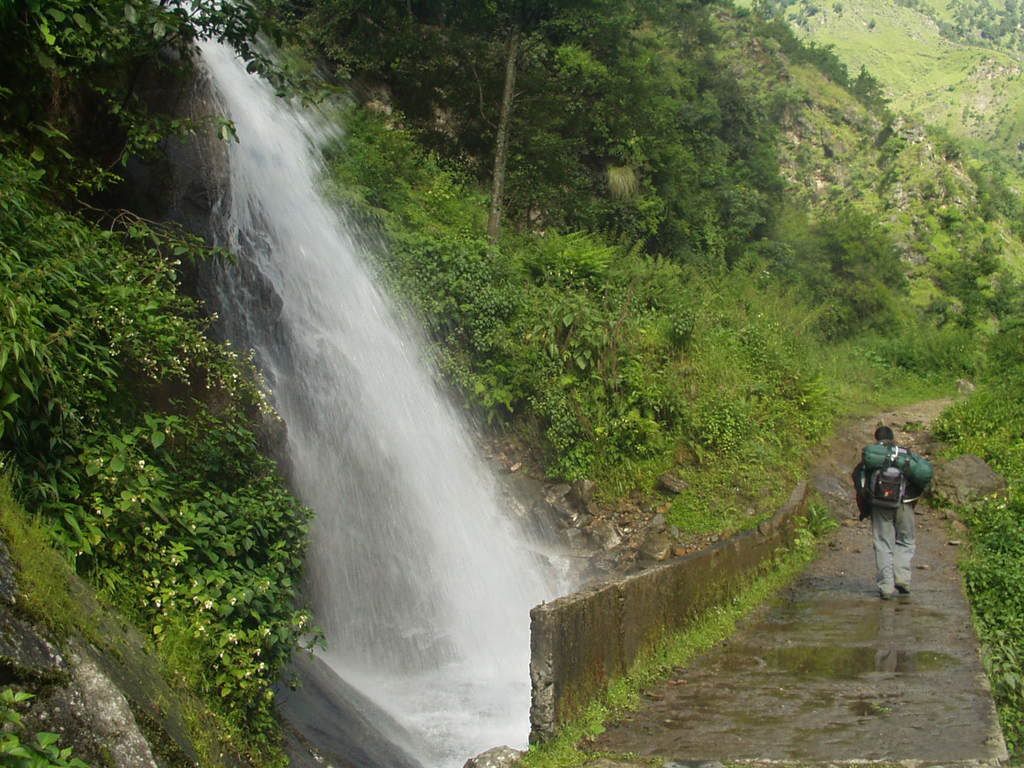 one of the many waterfalls along the way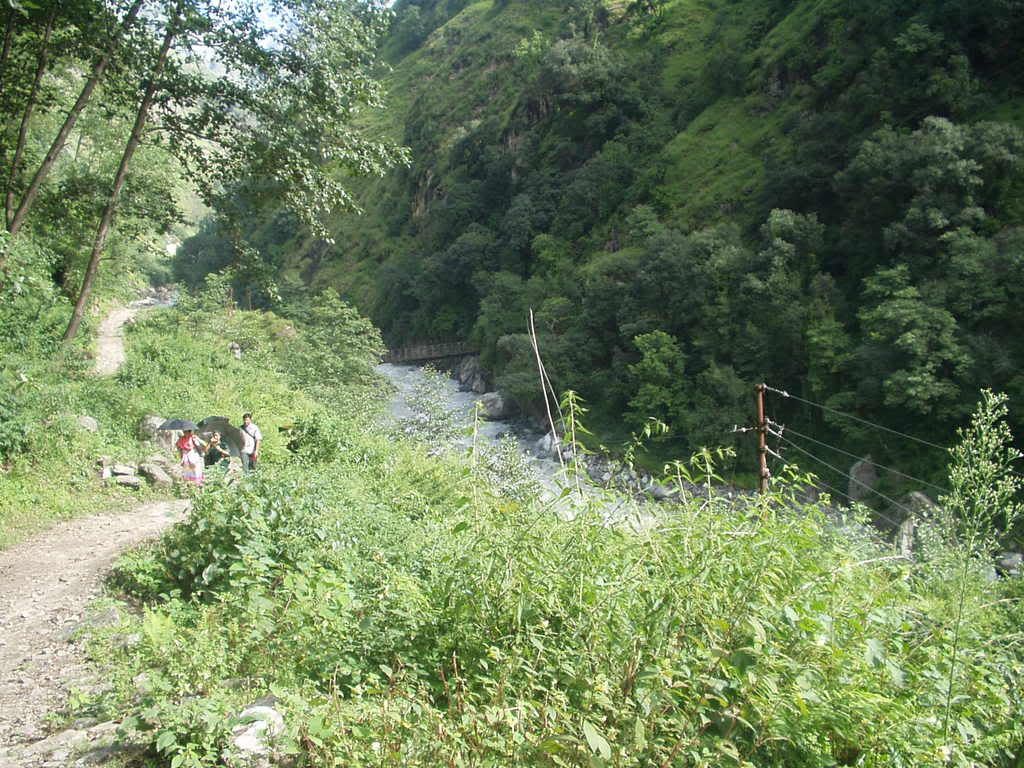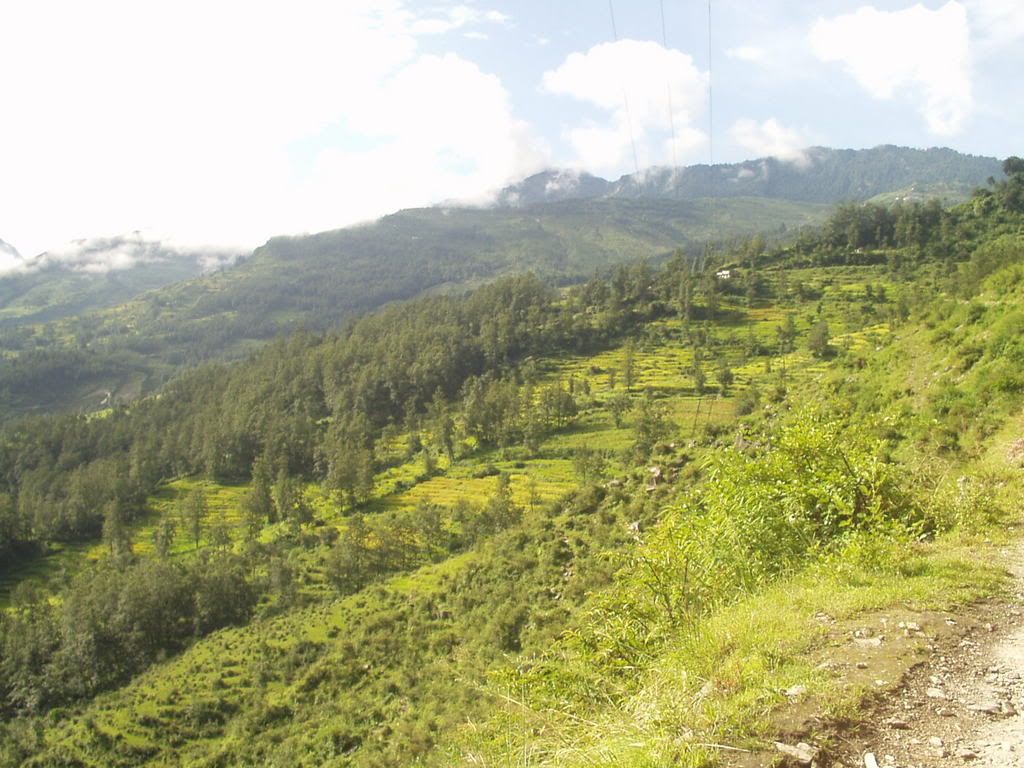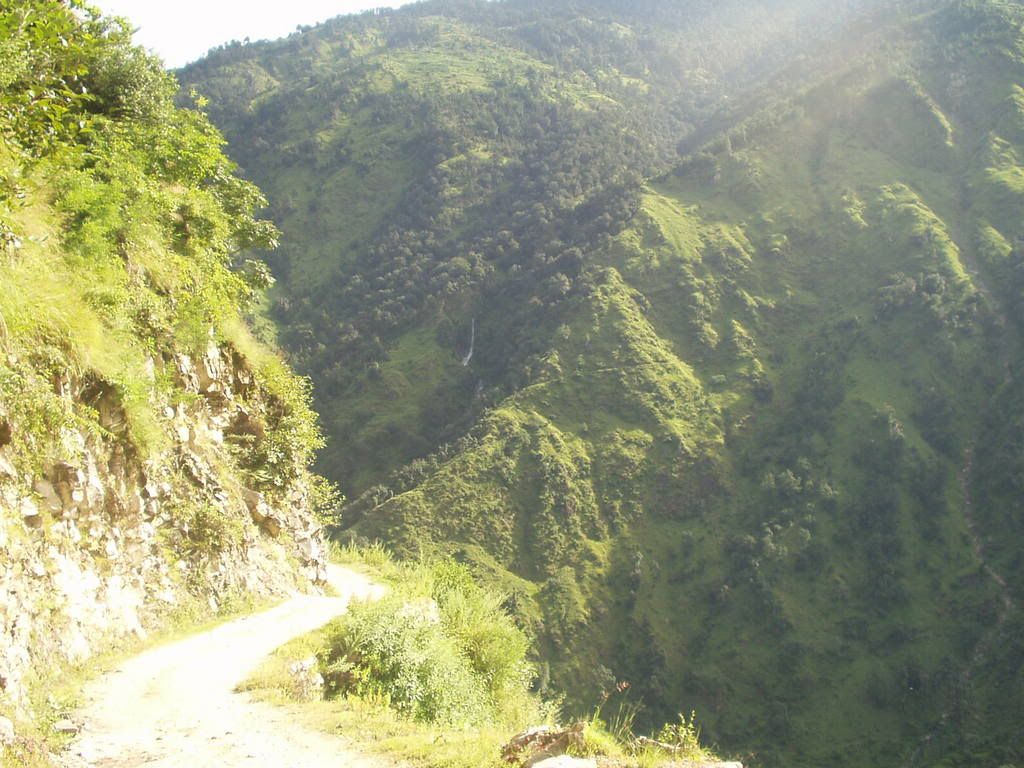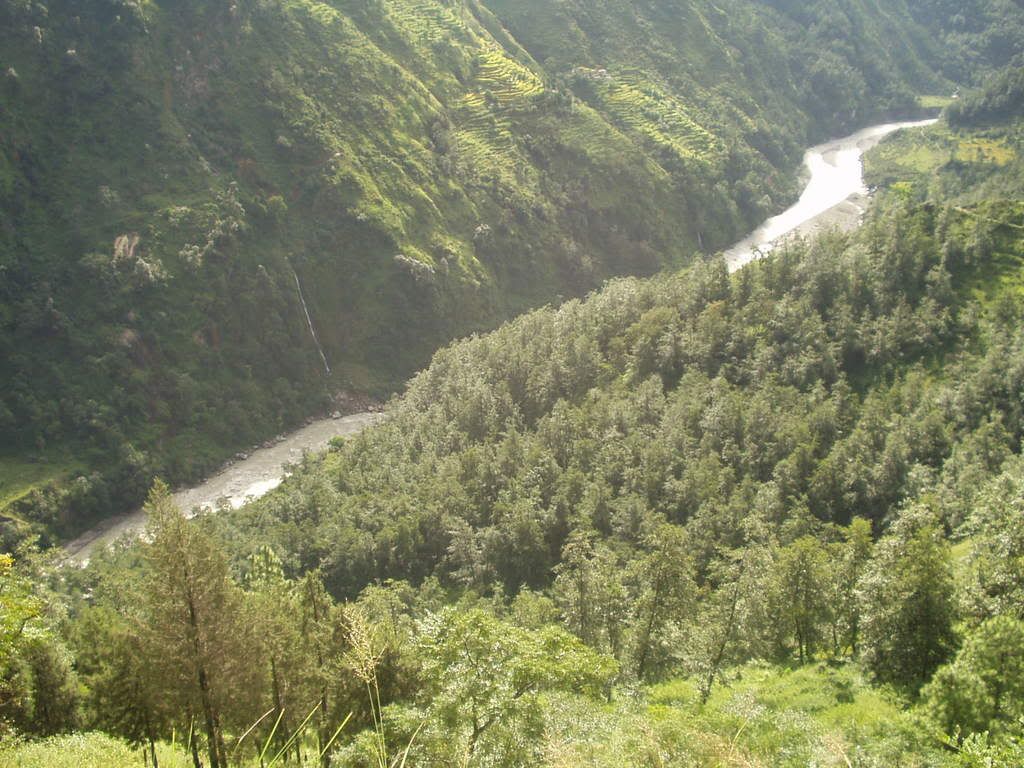 when we start the trek, we have to go all the way down to the base of the johar valley
flowers growing between the rocks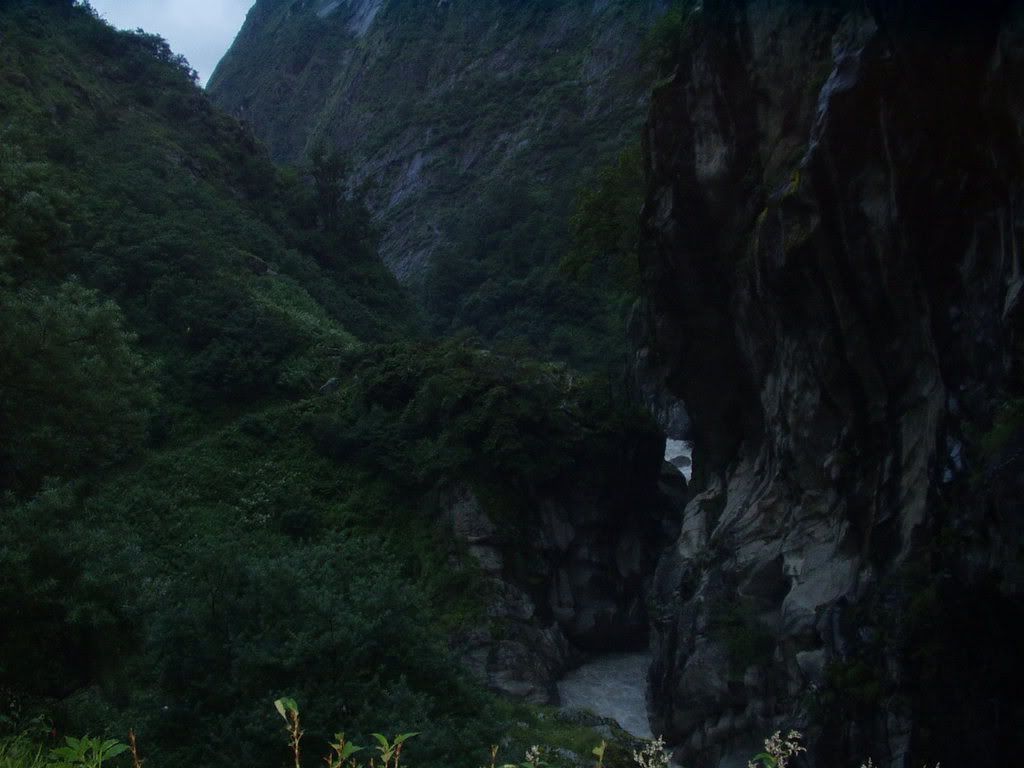 now it is getting dark..we r very close to bagudiyar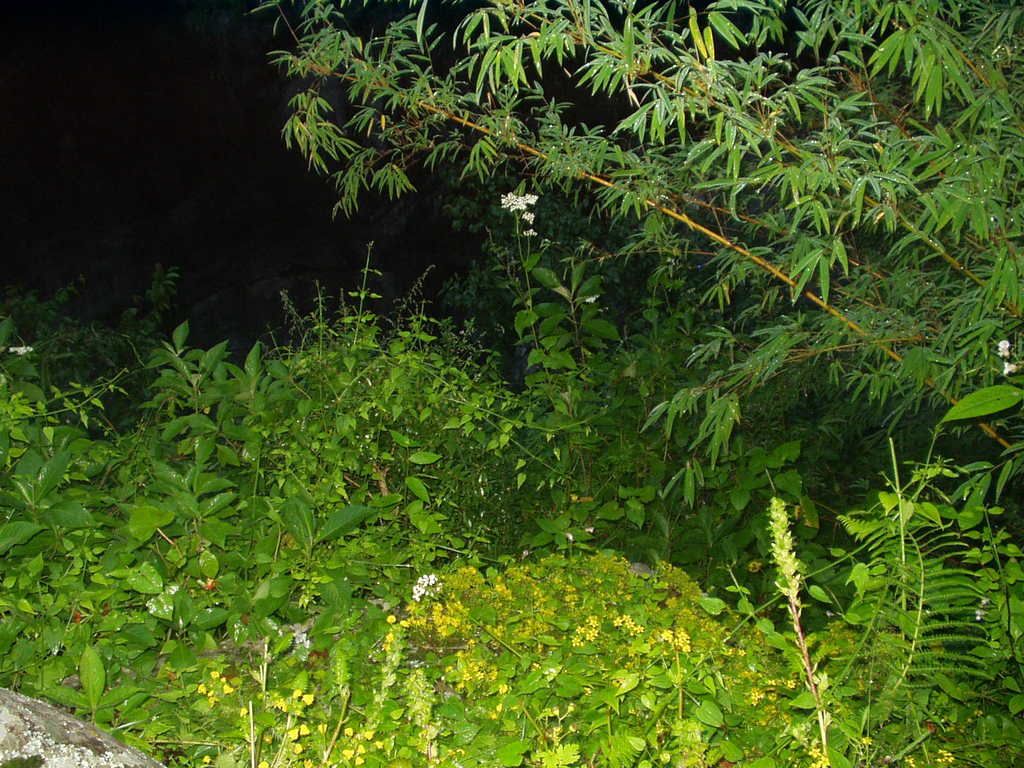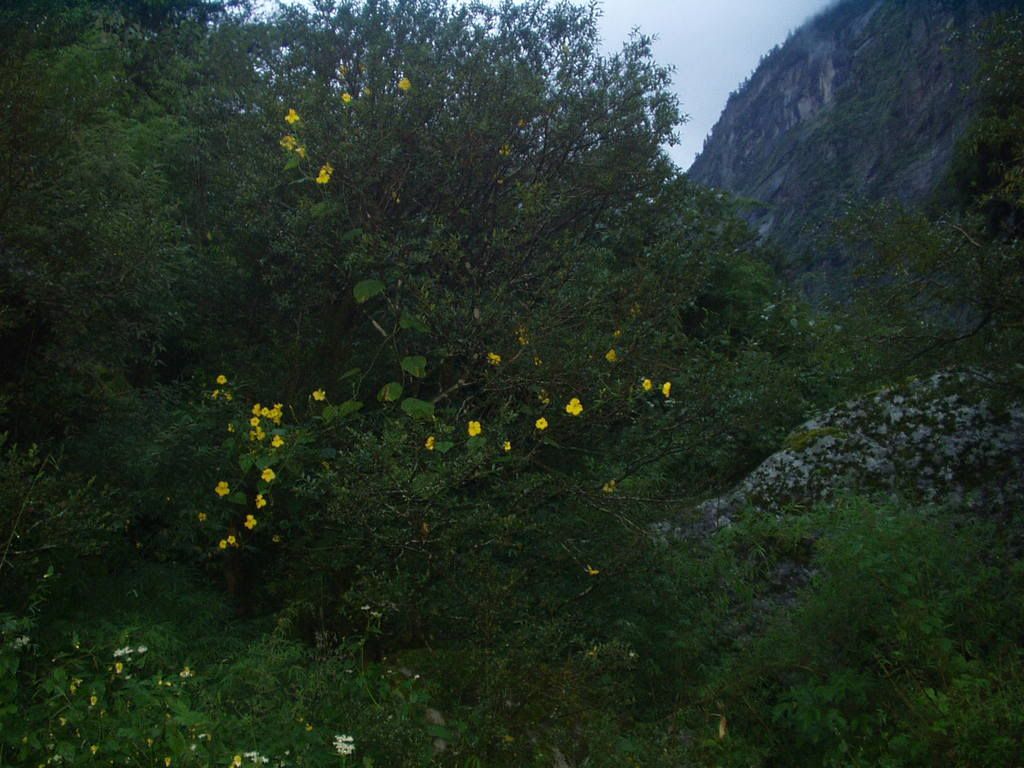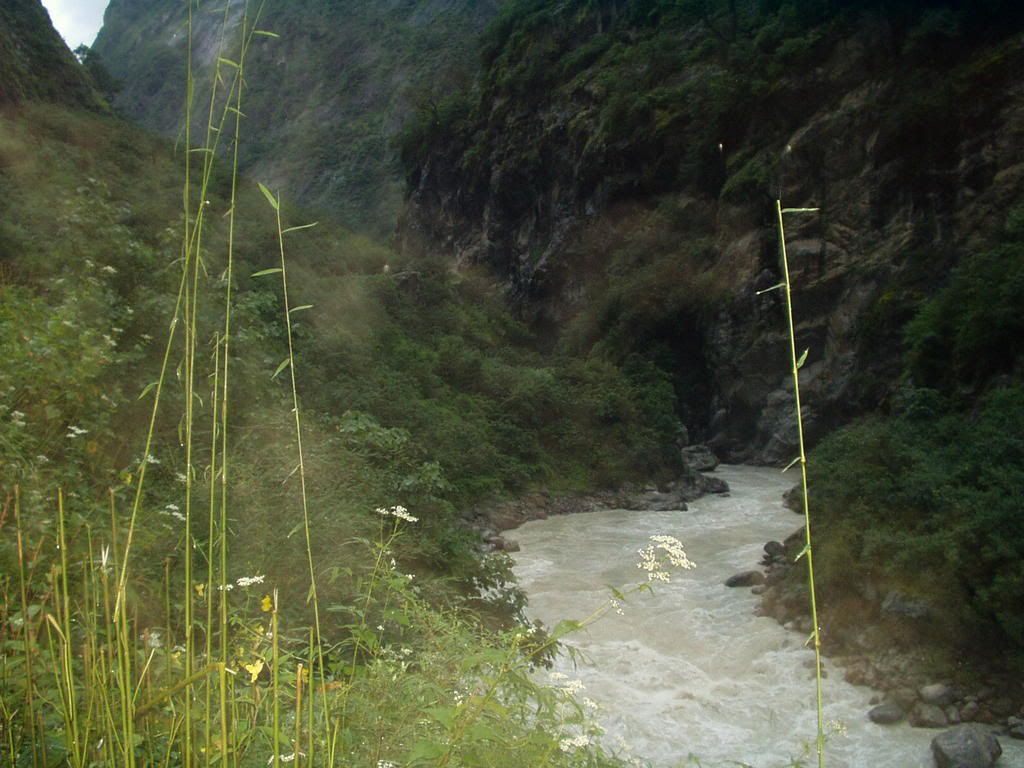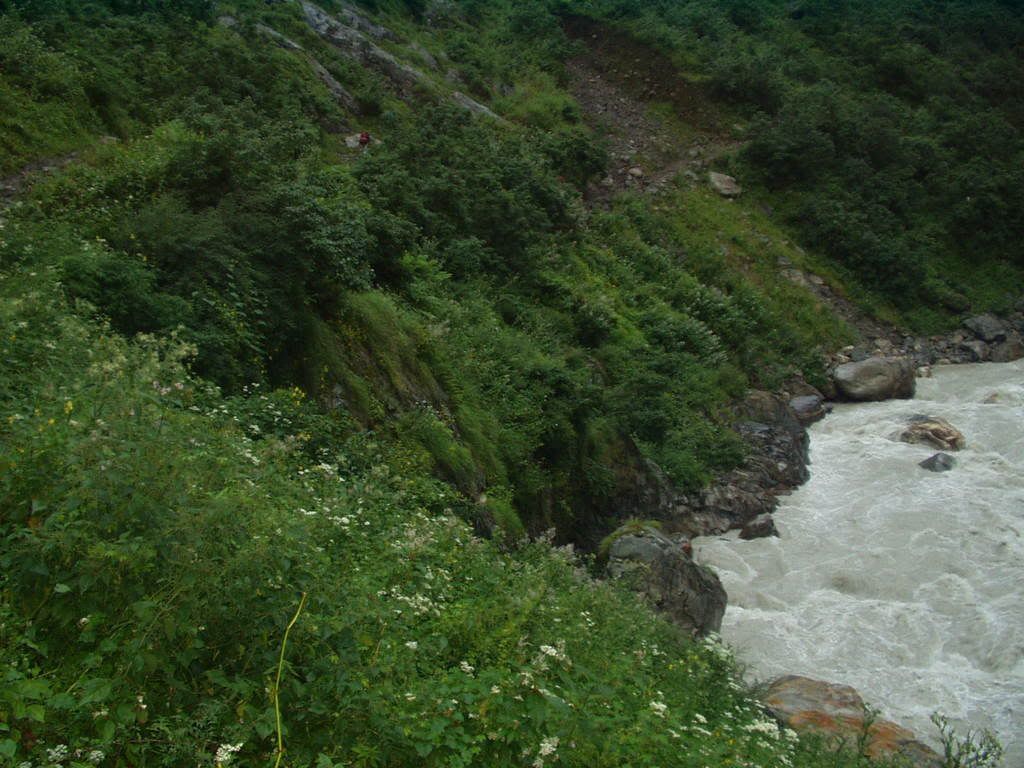 the gori ganag is very ferocious over here, also this gorge is very narrow
taking a break ta "rail-gaadi" (rargadi)
approaching rail-gaadi (rargadi). there is a small bench outside..where u can sit next ot the river and enjoy the views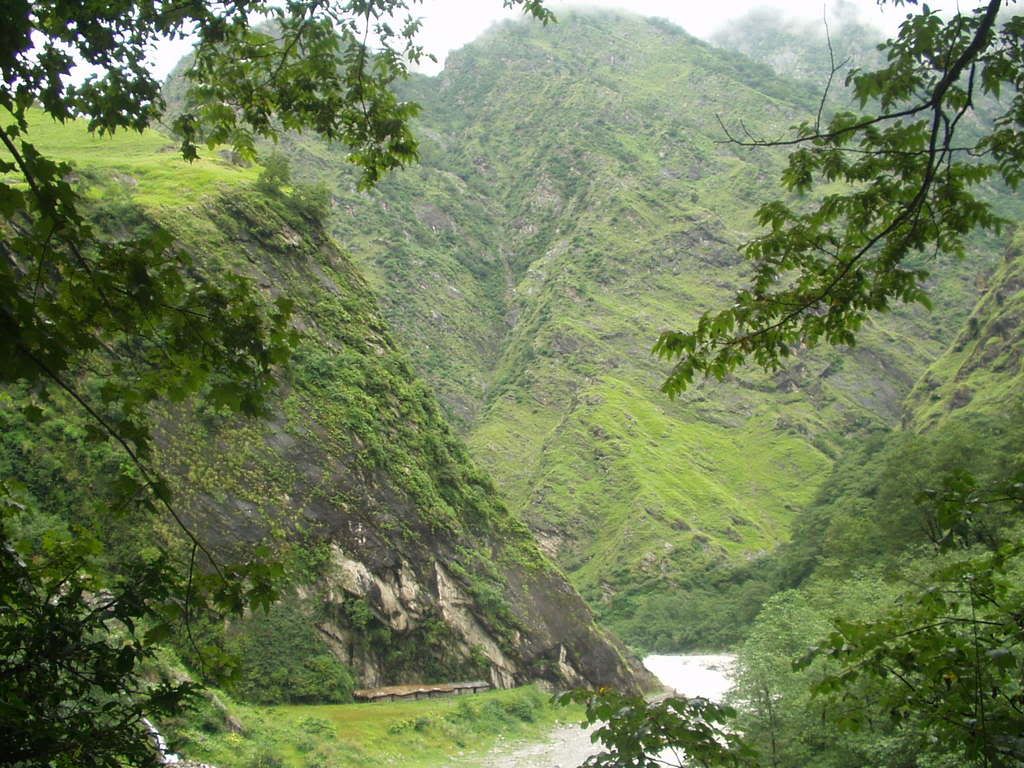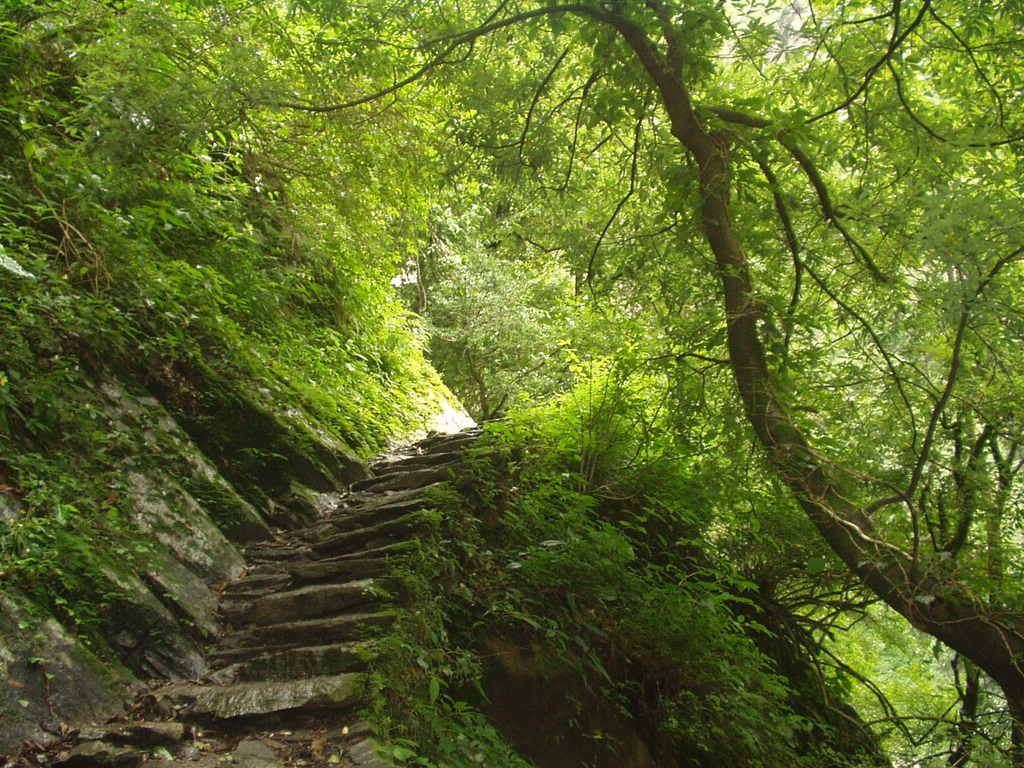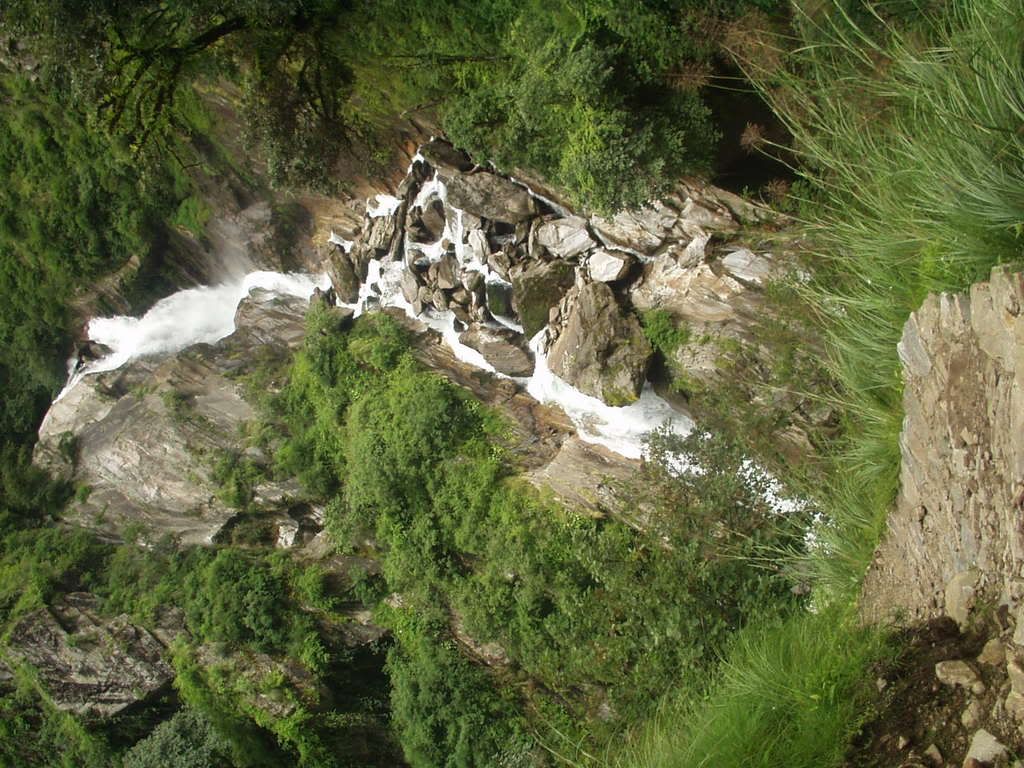 waterfall coming from the top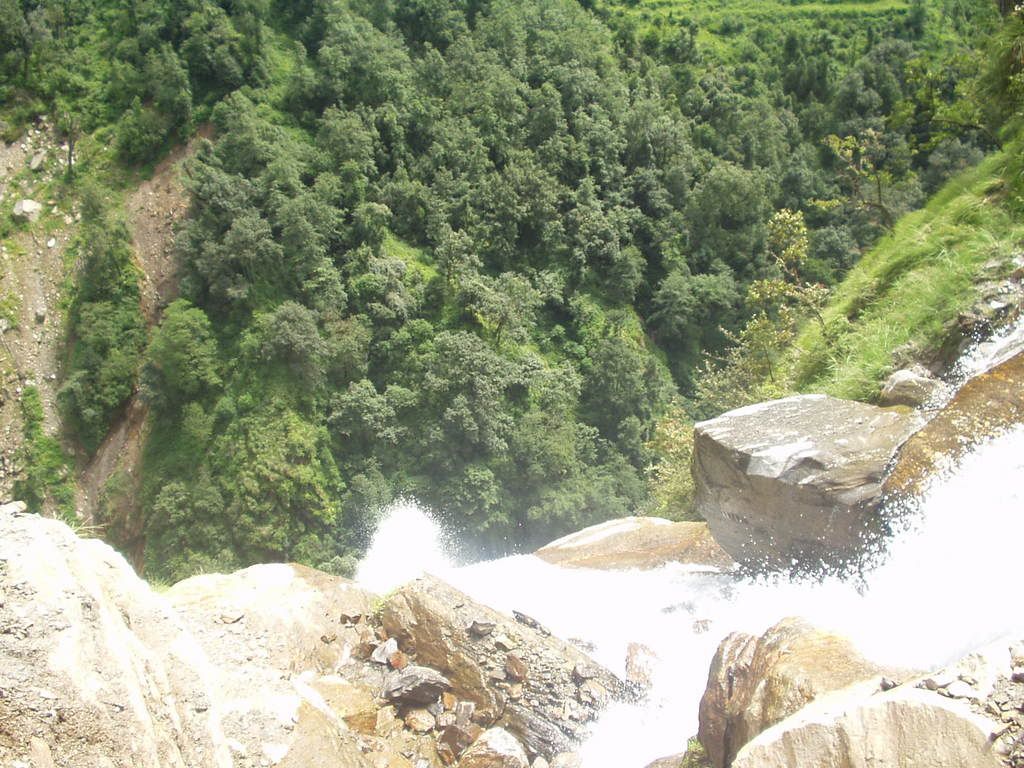 waterfall falling into gori ganga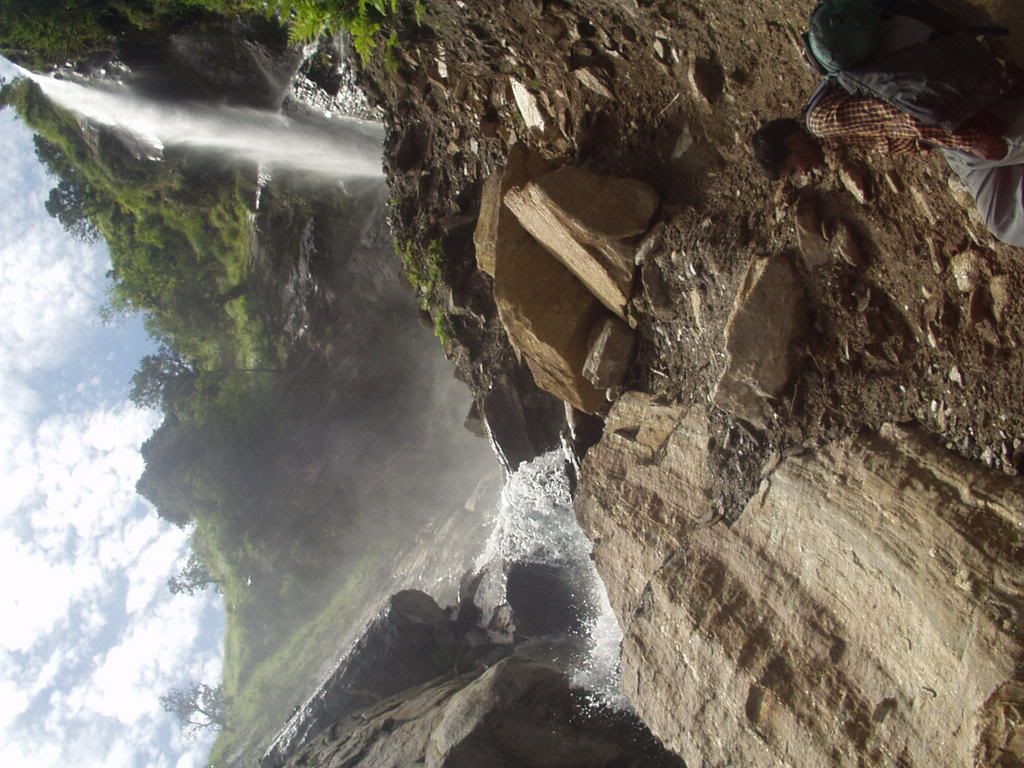 waterfall from top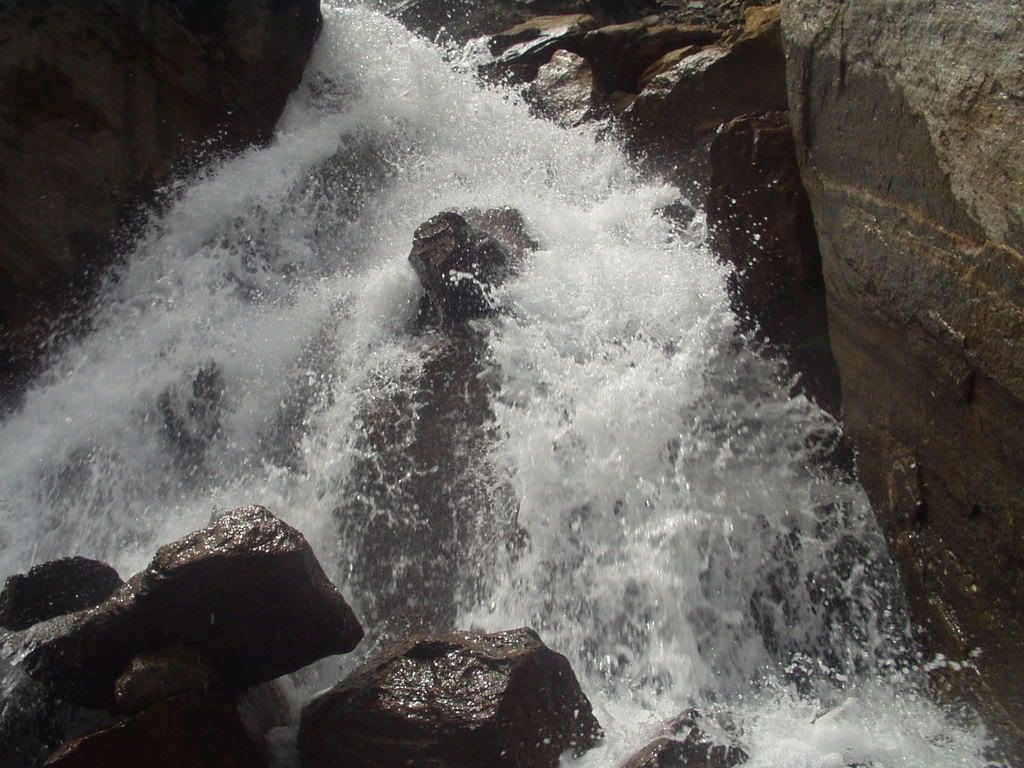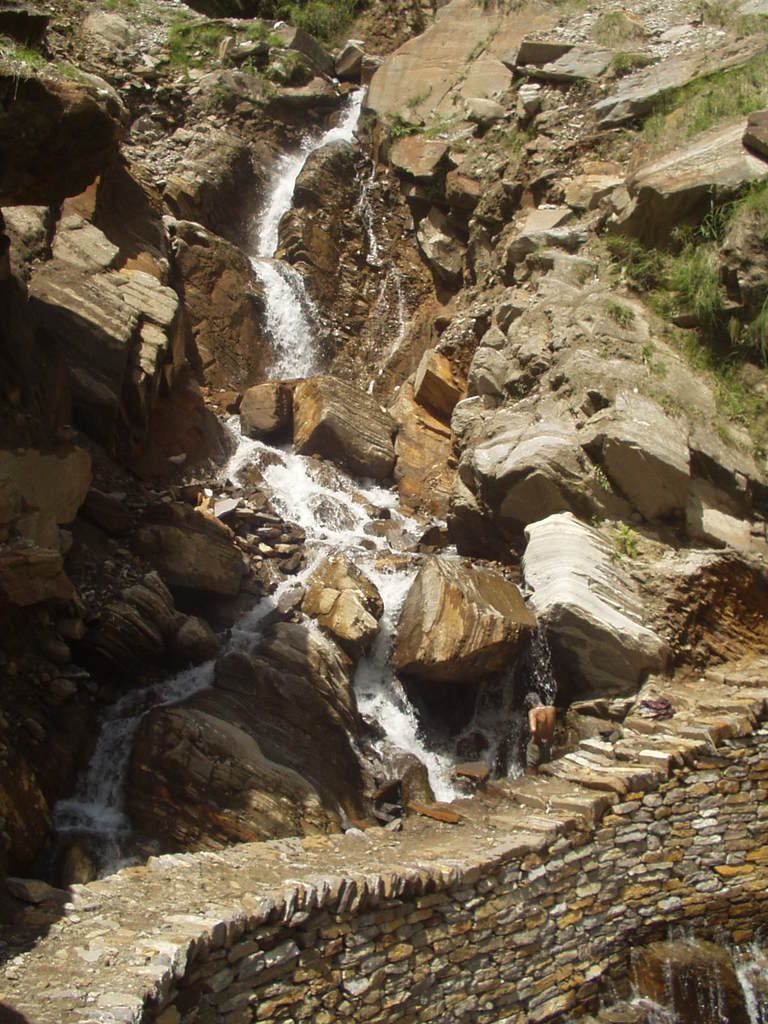 this poerson is taking a natural bath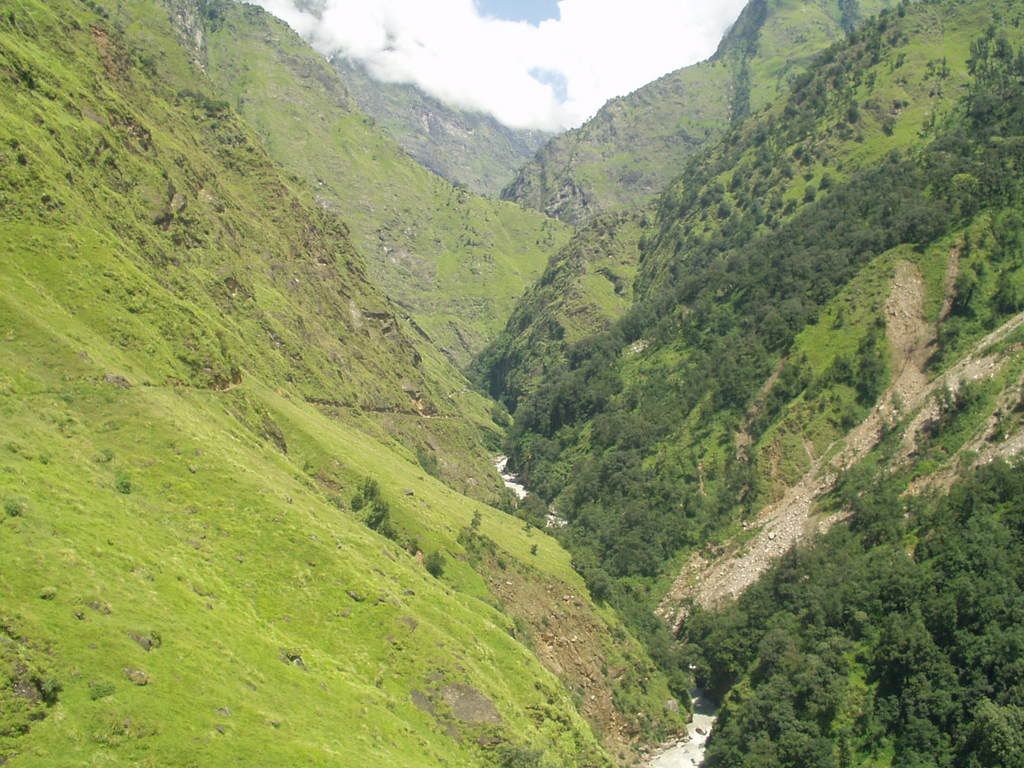 this is the path to milam villahge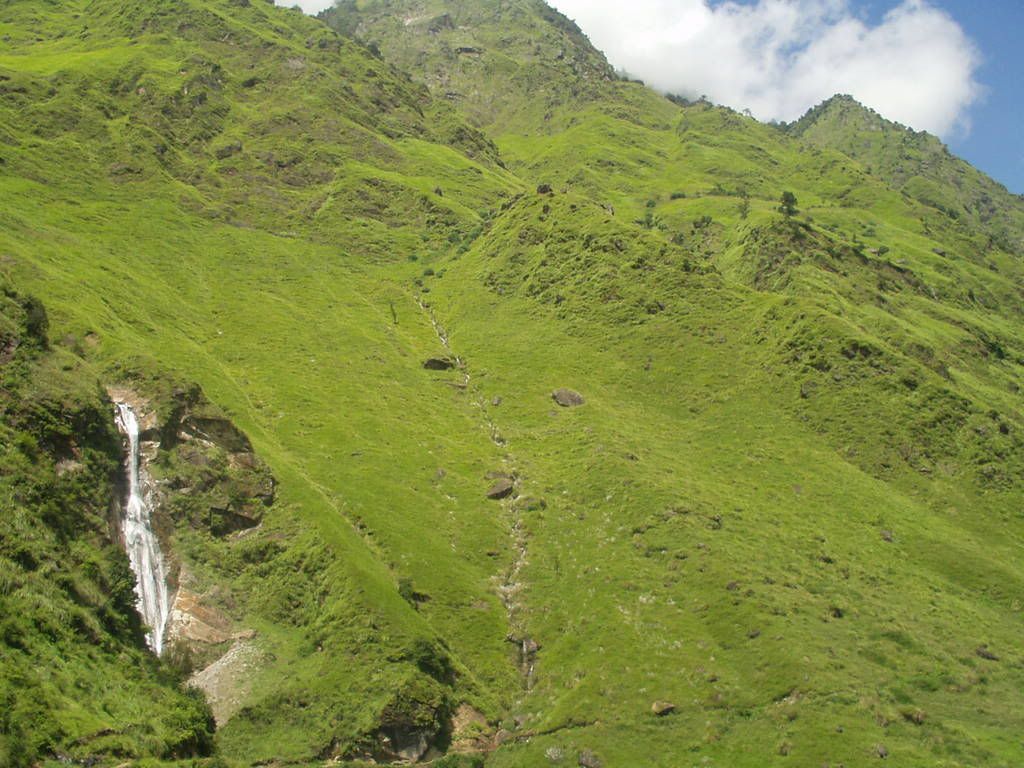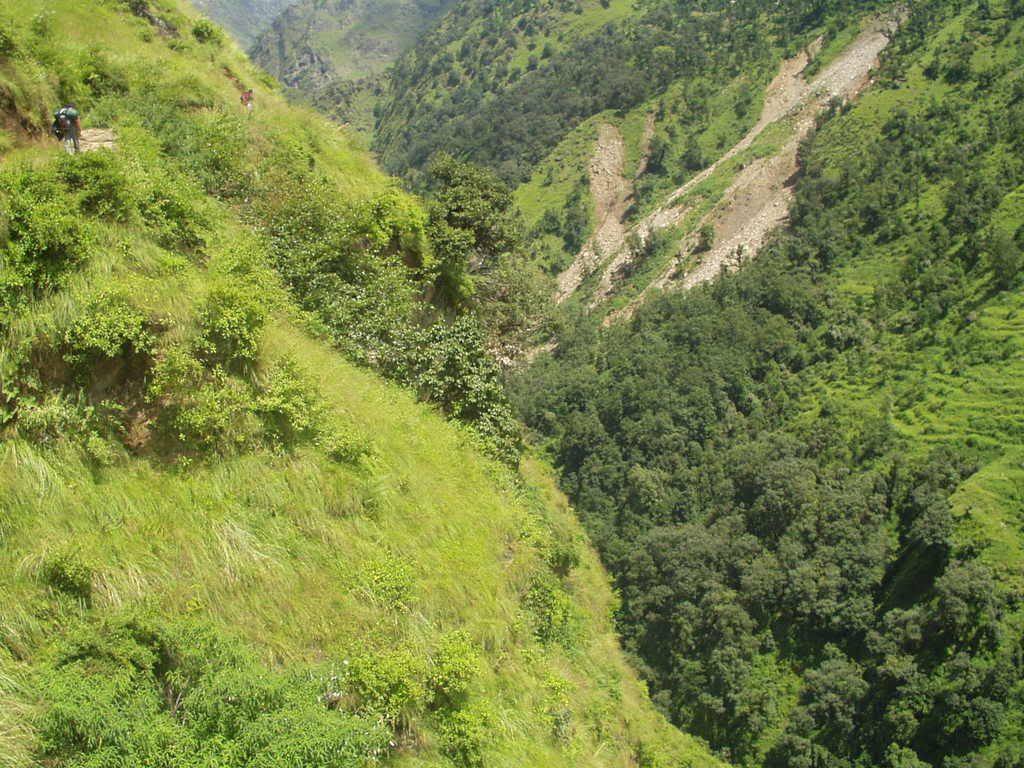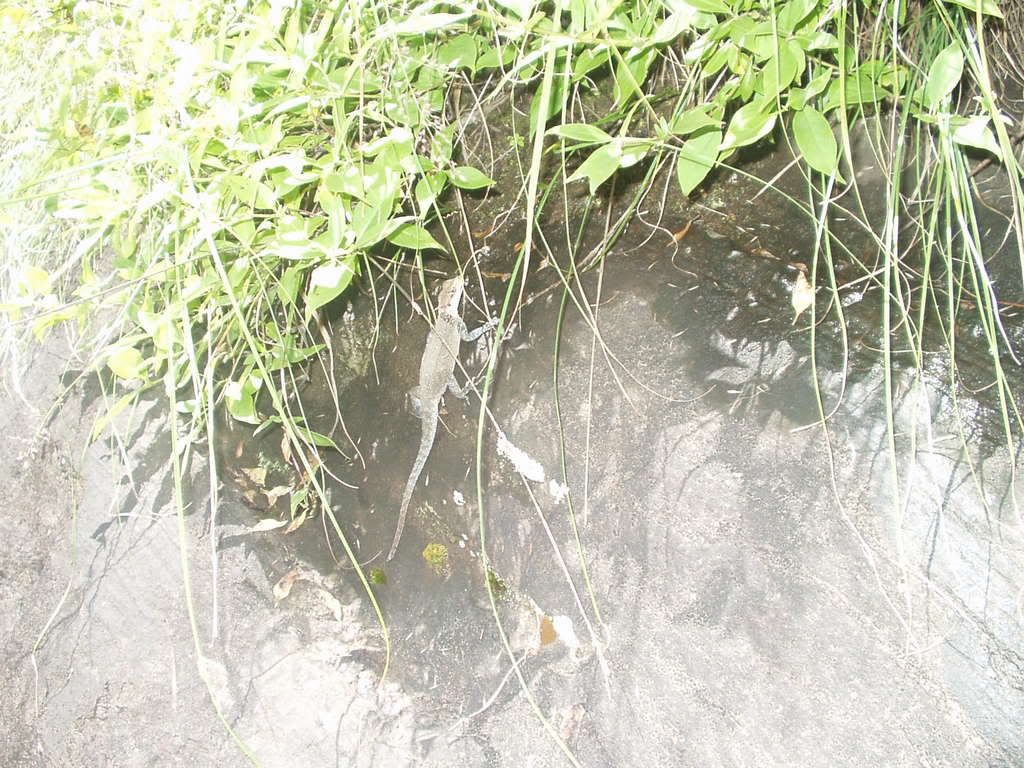 there are thousands of lizards along the way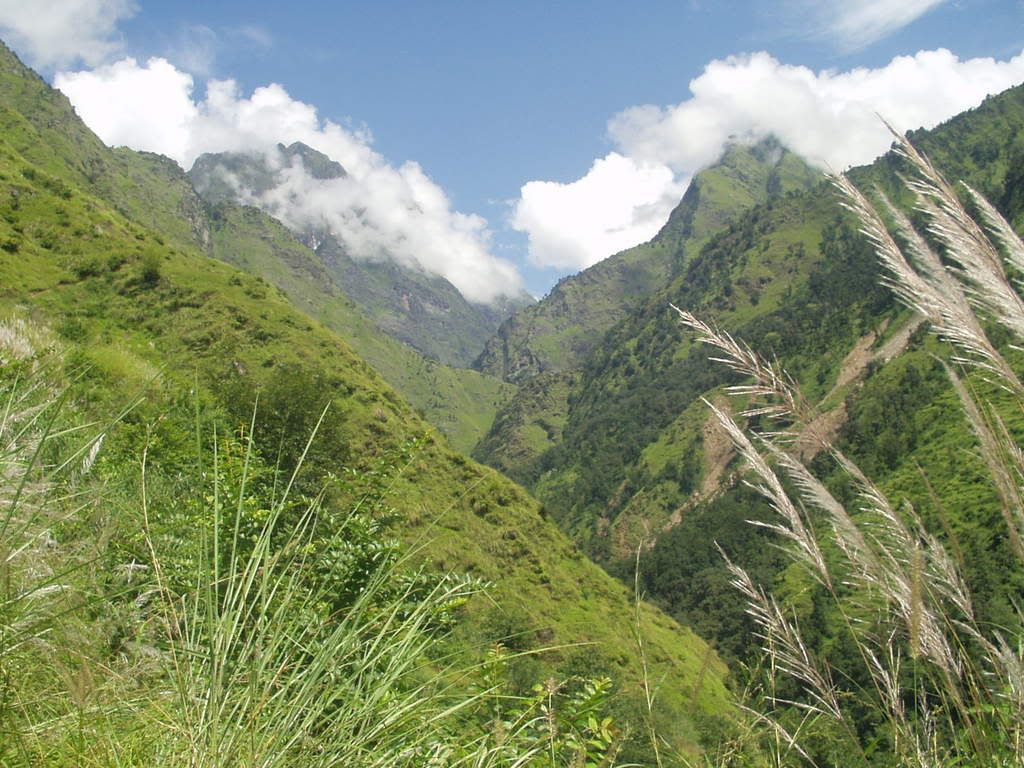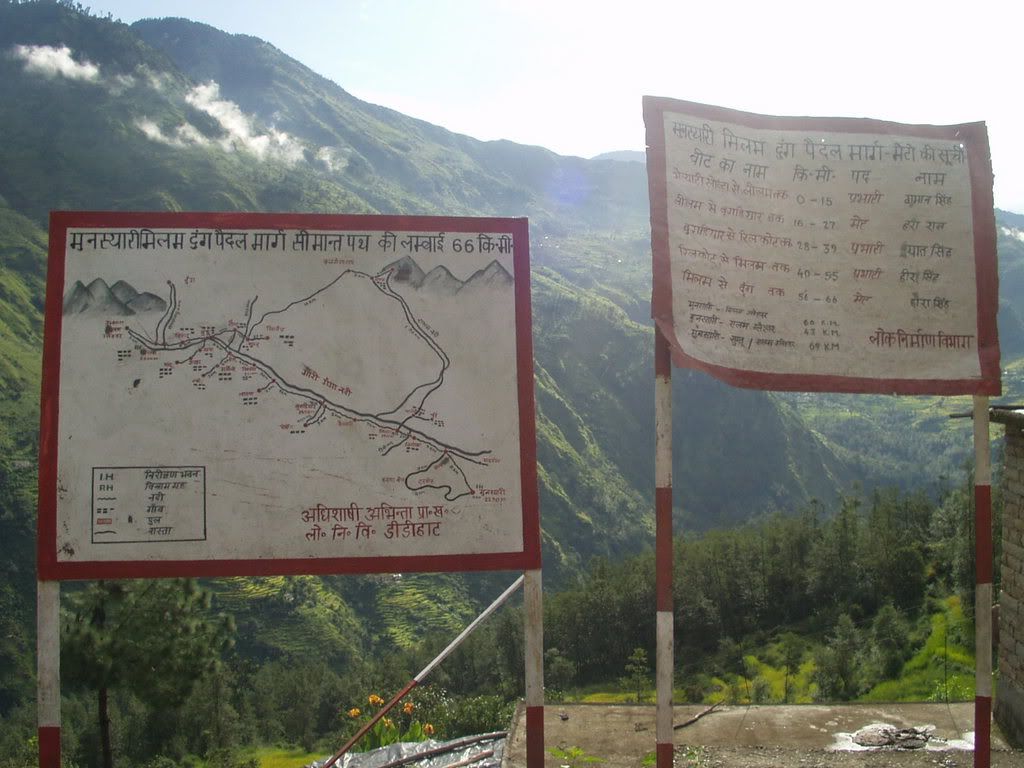 path to milam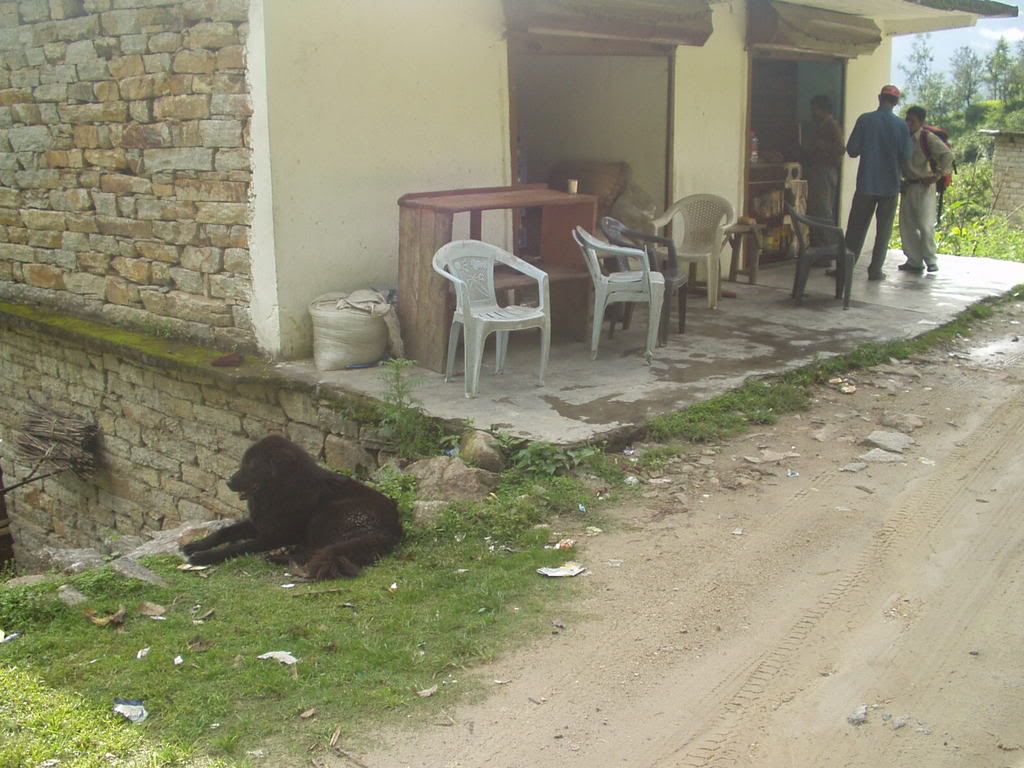 the trel starts here